Christmas Cards Are The Devil
by Gina Valley
Why can't anything be simple?
Join me over at Dads Round Table to talk and laugh about the joy of trying to get children to make a simple Christmas cards for their teachers.
Here's a snippet of the giggles you'll find when you get there: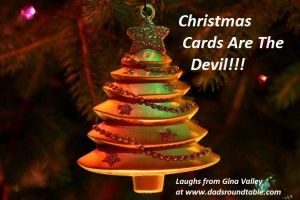 …Instead of a few minutes invested and a lovely gift-card combo being produced, I have a migraine starting as I try to figure out where my two young scribes are for the third time since they began to make their cards 20 minutes ago.
When I have again herded them back to the card producing zone, it isn't 30 seconds before I hear a Nerf gun being loaded.
"Put the gun down!" I holler from the kitchen, where dinner is also behind schedule.  I wonder if when our neighbors hear me yell that they remember it as standard fare from last year's teachers' Christmas card making session.
I hear Son#3 ask Son#1, "Do you know where the fish food is?"…
Click on over to my Christmas Cards Are The Devil post on Dads Round Table to get the entire tale.
As always, the extra click to get there counts as cardio.
Laugh Out Loud!
-gina
Have you become so frustrated with trying to wrangle children that you were tempted to poke yourself in the eye?  Have you glued a body part to a table?  Shoot me a comment.  I'm looking forward to hearing all about it.