It's Different When You're Married!!! …Gina's Favorites
by Gina Valley
The Professor and I celebrated our wedding anniversary this week. We were in different states on the actual day, as we often are due to our travel schedules. Being apart on important occasions was a big deal before we were married. But, neither one of us considers it a problem now. We just celebrate when we're again in the same time zone. That being the case, I thought it fitting to have my 
Marriage Changes Us
 post be our source for 
Throwback Day
 giggles this week. Laugh along with this 
Gina's Favorites
 post.
Marriage Changes Us
A friend mentioned to me that his wife had finally agreed to let him set up a video camera in their bedroom. I was a little surprised he was sharing that until he explained the reason for the video camera was to determine once and for all who's snoring and stealing the covers.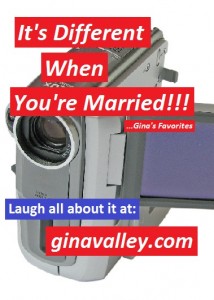 That made me literally laugh out loud. I couldn't help it.
I told him how surprised I was that his wife was willing to let him set up a video camera in their bedroom and that was what he wanted to do with it.
That conversation didn't just make me laugh.  It made me think about how marriage changes us.  I'm not saying that's bad.  Not saying it's good.   Just saying it's different.
It's really different.
And, it's funny.
Pre VS Post
Video cameras in the bedroom
Pre – night to see who's the most adventurous
Post – night to see who is snoring and hogging the covers
She says "I'm hot!'
Pre – he tears off his clothes and jumps into bed
Post – he jumps out of bed and turns on the fan
Friday night
Pre – standing date – dinner at a hip new restaurant and then seeing the latest hot movie
Post -standing date – samples at Costco for dinner and then seeing if you can get the hot roast chicken home without it leaking all over the car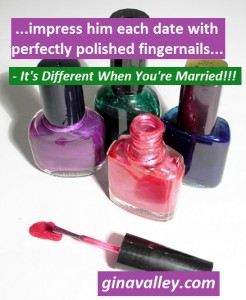 Nail polish
Pre – trying to impress him before each date with perfectly polished toe and fingernails
Post – pressing him into painting her toenails for her so she'll look nice for her night out with the girls.
His Gut
Pre – sucking it in every time she so much as glances his way for the duration of the date
Post – asking her to watch as he tries to push it out far enough to use it to operate the TV remote control
Dinner
Pre – she cooks her special spaghetti and meatballs dinner for him
Post – she over-cooks water until it burns, then calls to ask him to pick-up pizza on the way home.
Children
Pre – dreaming about the exquisite, perfect geniuses your progeny would be
Post – never dreaming because your progeny never let you sleep
Sub-wardrobing
Pre – Her skivvies are beautiful and matching
Post – if her skivvies are both clean she calls that a match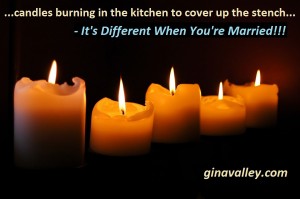 Underneath it all
Pre – he slips into silk boxers he bought because they're her favorite color
Post – he slips into a pair of his Walmart cheapos that he found on the bedroom floor
Movies
Pre – He asks her what her favorite part of their shared favorite movie is
Post – He asks her if he has seen the movie they're currently watching, and, when she says that he has, he asks her if he liked it.
Shaving
Pre – everywhere everyday just in case
Post – only the basics without a two day advanced warning.
Candles
Pre – candles burning in the bedroom to set the mood for romance
Post – candles burning in the kitchen to cover up the stench created when someone didn't take their turn at doing the dishes.
Which reminds me – it's my turn today for dishes.
I wonder if we have any candles.
Laugh Out Loud!
-gina
What changed when you walked down the aisle?  Shoot me a comment.  I'm looking forward to hearing all about it.
Photos courtesy of 
Stock.xchng
 – Used with permission.