Top 10 Reasons I Hate Silent Saturday
by Gina Valley
Saturday was Silent Saturday on the soccer fields.
It's also known as Aneurisms All Around Day.
In case you aren't familiar with the Silent Saturday Movement, just think of it as a kind of glorified time-out for the over-zealous (i.e. people behaving like jerks) at youth soccer games.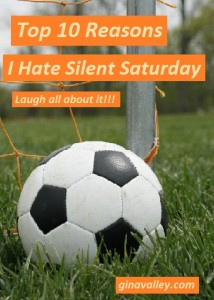 During Silent Saturday no one (not parents nor coaches nor spectators) is allowed to yell or say anything (positive or negative) to the players during the games.