Top 10 Back To School Super Powers
by Gina Valley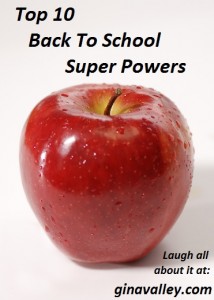 Faster than a ringing tardy bell.
More powerful than a tub of yogurt left in a backpack last June.
Able to blurt out 7×8 is 56 (remember 5,6,7,8).
It's a caffeine-aholic. It's a Zombie.  No! It's a Super Powered Parent.
If your kids have headed back to school,