This week for Throwback Day we are visiting one of my posts about kids and their focus destroying excitement and sense of fun.  Enjoy this Gina's Favorite!
WHAT Is The Dog Sniffing Now?!?! …Gina's Favorites
by Gina Valley
I love how kids see fun in stuff that seems like anything but fun to me.  They totally lose themselves in simple things and find hidden joy there.  I love that!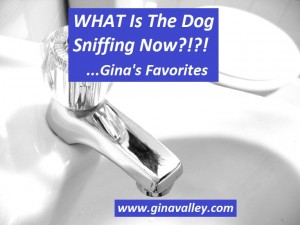 When we had a new flushing mechanism installed in the toilet in our powder room my little ones were thrilled.