A Foot-Mounted Lego Detector #25daysofwhatIwantforChristmas
by Gina Valley
I want a Foot-Mounted Lego Detector for Christmas.
I have a special talent. If there's an AWOL Lego piece within 50 miles of me, I will find it with my bare feet.  If it's dark and I'm in my sons' room, I'll find all its friends, neighbors, and cousins, as well.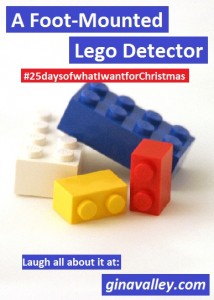 I once stepped on a rogue Lego piece in the auditorium at church.