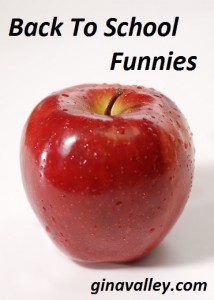 Back To School Funnies
It's the most wonderful time of the year.
Back to School is upon us.
If your kids haven't hit the school halls yet, they will be soon.
Before you get buried in shopping for 15 packs of crayons or building a scaled Mt. Vesuvius, it's time to get your giggle on.
Back To School Funnies
Smiles From Around The World Wide Web
Complied by Gina Valley
Be sure to visit the Gina Valley Facebook page and to "like"