Another Near Death Experience
by Gina Valley
There is something about the school parking lot that brings me to the brink of considering homicide several times a week.  It's like a near death experience.
Some people, perhaps new to parenting or new to driving or new to thinking, clearly do not understand the basic rules of behavior for driving through the school parking lot.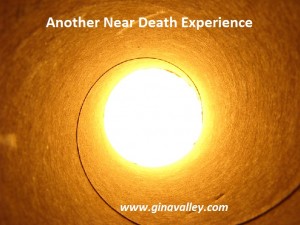 That being the case, I have prepared something of a primer, to bring them up to speed.  Consider this my public service announcement for the week.
No need to take down your sunshade before leaving your parking place. We've all made this mistake.  You're parked, waiting for your kids, sun streaming through the windshield.  It gets a bit too hot, so you open up that foil pop up thingy and wedge it in the windshield.
You forget all about it, as you battle level 76 on Candy Crush against those evil chocolate pieces that keep popping up, just as you were about to have 5 blue candies in a row to earn that sprinkle covered donut hole.  Curses!
After your kids have finally wandered out to your car and began explaining to you how horrible their substitute teacher, Mrs. Hairywart, was, you back out of the parking place.  You turn around to face forward, while slipping the transmission into "drive," and are greeted by the foil monolith you forgot to remove from your windshield.
Do not panic.  Yes, conventional wisdom teaches that you should pull over, out of the way of traffic, and safely remove and stow the sunshade, but that seems like a big hassle.  Instead, continue traveling forward using one hand to steer (safety first) and the other to push the sunshade to the side a bit, providing you with a tiny slit through which to peer.
Feel free to steer with your knee, elbow, or gut.   There is no reason to get all OCD about steering your car.  Relax.  Keep holding your Starbucks, iPad, cell phone, and copy of 50 Shades of Gray.  You are important.  People should get out of your way.
As you approach groups of students and other vehicles, just use your foot or something to guide your vehicle as you slalom through.  After all, if using your knee is good enough to lower your window so you can make fun of the lady driving with her sunshade up, it's good enough to use to try to swerve around the principal.  You'd think, since he works with children, that he'd be better at bobbing and weaving than he is.
Slow down. Relax. It's not a sprint.  It's really a skills competition.  It's very upsetting to nearly hit a kid with your car.  Don't be too hard on yourself.  If you narrowly miss hitting a kid with your car, you can always circle back through and wing him with your door on the second lap.
Don't be a potty mouth. When you surmise that you've been affronted by another driver, do not stick your head out your window and yell obscenities. Remember, there are children nearby.  And, they're much better cussers than you are. They've got twice the vocabulary and triple the speed.  You'll just look foolish.   Besides, the IRS is just a cell phone call away, and cussing last mere seconds, while an audit last for months.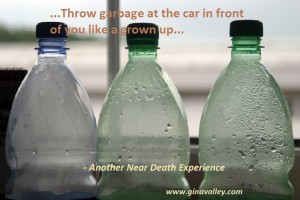 If traffic through the lot is moving too slowly, do not honk. That's so immature. Throw garbage at the car in front of you like a grown up.  If you don't have any, our van floor is a breeding ground.  You're welcome to all you want or need.  Just don't take the bottles.  The recycling money from those is my kids' college find.
Remember:  It's all about the kids.
Laugh Out Loud!
-gina
How has your school parking lot experience been?  How about sporting event parking lots? Shoot me a comment.  You're already here anyway, and I'd love to hear from you.