It's Always Been 16 Feet High
by Gina Valley
I heard my eldest son groaning from our entryway, "Crud! Why is this so heavy?"
I dashed out of my office and looked down into the entryway to see my first born straining under the weight of one end of the biggest ladder I have ever seen.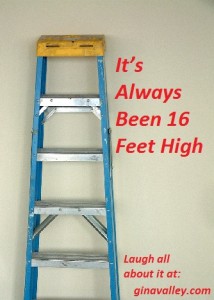 "What are you doing?" I hollered down.
He gave me an "I can't talk right now, because I'm too busy dying" look.
I watched as he dodged the piano, and wrangled his end of the gigantic ladder over our sofa and into our dining room.  I found my husband, The Professor, straining under the weight of the other end of the ladder, as it finally made its way through our front door.
I gave him the international wife "What the heck are you doing?" look.  He, having received this look many times before, immediately announced, "I'm changing the light in the foyer."
The Professor has several days off this week. Sort of a pre-Spring-Break Break, I guess. As is usually the case, he has decided to embark upon some home improvement projects during his days off.  Personally, I'd rather his DIY part of any home improvement project be finding our checkbook.
My husband has many fine qualities, but he was not raised in a Do It Yourself kind of environment.  His first foyer into home repair was when, after we were married, I re-soldered his parents' hot water heater connections.  They looked at me like I was a god descended from Mt Home Depot.
I, on the other hand, did grow up in a Do It Yourself kind of environment.  I was taught that if you knew how to fix it, you fixed it.  And, if you didn't know how to fix it, you learned how to fix it, and you fixed it.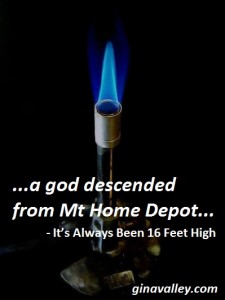 But, we live in a I Do Not Have The Time Or Energy To Stress Over Fixing That kind of environment.  I can barely keep the house livable, the kids fed, and my work semi-finished each day.  I don't need the satisfaction of fixing it myself, much less the lay awake at night and hope it was done right that often comes with the whole Do It Yourself experience.
The Professor is also buried in life's details, and far from needing anything else to do. But, he often seems to think that fixing stuff himself around our home is one of those I've got to do this to maintain my status at the Man Club kind of situations.
So, apparently, when I mentioned that I was hoping the electrician would have time to change that fixture before next weekend, my dear husband thought he heard himself called to action. And, by "action" he didn't hear "find the checkbook." He heard "get the Empire State Building of ladders and cram it into our house."
I'm sure you can guess where this is heading.  I will pause here so you all can choose a side.
All set?
I resisted the urge to scream, "Lord, Jesus, come quickly!" or "I don't think our emergency room is equipped to handle electrical burns!" and instead asked, "Where did you get that thing?"
"I rented it," he announced, in his most "I'm practically a contractor voice."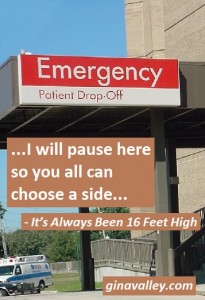 I immediately wondered if our emergency room is good at treating head trauma.  "How big is that thing?" I asked.
"300 pounds!" my son growled, rubbing his back.
"It's stands 16 feet high," The Professor said decidedly.
After moving our chiropractor's number to speed dial, I asked, "Is that going to fit in here?  It looks really long."
"Of course it will fit.  The ceiling in here is 16 feet high," The Professor reminded me in his most professorial voice.
I looked up at our entryway ceiling, and then down at the giant ladder, which seemed to have taken over our entire house.  "How do you know the ceiling is 16 feet high?"
"It's always been 16 feet high," he replied.  I think I detected an internal eye roll in his tone.
I will admit that when I bought this house one of the first things listed on the real estate flyer was that "the foyer boasts a 16 foot ceiling." I'm not sure how a foyer boasts, and I'm fairly certain real estate fliers are not known for their truthfulness, but our foyer ceiling is as high as our second story ceiling, so we've always taken it on faith that it is in fact 16 feet high.
All I know is the ceiling is too high to vacuum up the cobwebs from, so I have to throw a balled up t-shirt at them. It hasn't ever really mattered whether it was 15 feet or 16 feet or 17 feet high.
Until now.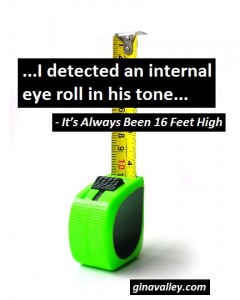 As my husband and our eldest progeny began to work the giant ladder into a vertical position to facilitate reaching the place in the center of the ceiling where the light fixture is attached, it became clear that I would need to stand at the railing around our upstairs hall to guide the top of the ladder around a few minor things that I wanted left intact, like our walls, railings, and children.
When the metal monolith was finally in a near vertical position, I noticed a slight problem.
"Uh, Honey," I said, "it's not going to fit."
"Yes, it is," my husband countered.
"No, it's not," I insisted.
"What makes you say that?" he asked, clearly irritated.
"It's already hitting the ceiling. If you keep pushing, it's going to make a giant top-of-a-ladder-shaped gash."
"You are exaggerating," he said, continuing to push the ladder.
"I'm not exaggerating. I think it's already denting the ceiling."
I'm not sure of what he muttered as he transferred the full weight of the enormous ladder to our son.  I'm quite sure of what our son muttered as he struggled to support the weight all by himself, but I try not to use such colorful language here.
The Professor continued to mutter as he stormed up the stairs and around the hall to my position near the top of the ladder.  He looked at the top of the ladder, and wiggled it around a bit, attempting, I assumed, to make it fit.  He took a step back and glared at it.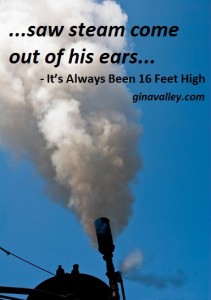 He whipped his measuring tape out of its holster on his tool belt. I have to admit I was quite impressed. Finding a measuring tape around our house when you need it is a near miraculous event. He pulled the tape out until it ran from the ceiling to the floor, far below. He stared at the number near the ceiling.
15 feet 9 inches.
He didn't say anything, but I'm pretty sure I saw steam come out of his ears.
It had taken all of 30 seconds to confirm what I was saying. The ladder would not fit. I, using my Super Wife Super Powers, stopped myself from asking him why he didn't check that before he went to rent the ladder in the first place.
"How could they say it was 16 feet high when it's not 16 feet high? That's so irresponsible," muttered my dear husband.
"Maybe," I offered helpfully, "they were using the metric system."  His glare told me that he didn't think that was helpful at all. Some people just refuse to embrace the metric system.
He and our oldest child somehow managed to wrest that giant metal beast out of our house. They left to go rent another ladder.  A slightly shorter ladder.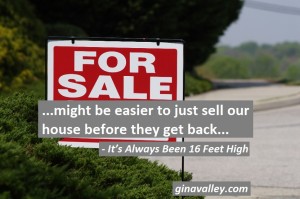 I hope they get one with one of those shelves to put tools and a bucket of drywall mud on near the top, because now, not only does the light fixture need changing, there's also a big top-of-a-ladder-shaped gash in the ceiling to fill in.
It might be easier to just sell our house and get us moved before they get back.
And, I know just what to put first on the flier.
"The foyer boasts a 16 foot ceiling."
After all, it's always been 16 feet high.
Laugh Out Loud!
-gina
Are you in the fix-it-yourself camp or the call-someone-quick camp? Have you had a simple repair go horribly awry? Shoot me a comment. You're already here anyway, and I'd like to hear all about it.
Photos courtesy of 
Stock.xchng
 – Used with permission