The School Parking Lot 3-Ring Circus
by Gina Valley
The Ring #2 of The School Parking Lot 3-Ring Circus was staged in the same parking lot on the same day, but the curtain rose after school.  Again, it was street performers, so to speak (be sure to get all of the giggles from Ring #1 and Ring #3 of The Parking Lot 3-Ring Circus, too).
As I sat in our van waiting for my daughters to join me on my quest to regroup with their siblings, the performance began.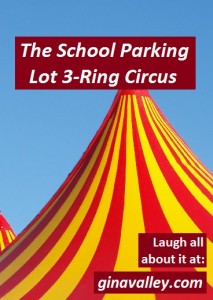 I had the windows down, allowing the gentle SoCal breeze to keep me cool, and to, hopefully, flush out the smell of rotting chicken nuggets that was coming from the back seat.
I clearly heard the clowns starting to enter the ring. Clown#1 began the show by hollering, "Hey! Hey! Hey!"
Clown#2 then responded with, "What? What? What?"
I couldn't see the clowns, as apparently the second ring of The Parking Lot 3 Ring Circus was situated behind me, but I could see the other drivers laughing already as the show began.  
It was difficult to follow the conversation, as the clowns were less than totally careful with their enunciation and word choice. But, the general gist of the performance was that Clown#2, who according to Clown#1 was a bleeping bleep bleeper (perhaps you've guessed that I've substituted "bleep" for the somewhat, shall we say "crass" word used by Clown#1), had stopped his bleeping car in the street to wait to turn into the school parking lot. Apparently, this offended Clown#1.
Clown#2 pointed out, in a less than totally genteel manner, that Clown#1 was bleeping blind (apparently these gentlemen entertainers shared a common dialect, or perhaps just a common stunted vocabulary), and if he didn't have his bleeping head up his bleeping bleep, he would have noticed there was a line of cars a block long waiting in the street to turn into the school parking lot that Clown#1 had bleeping cut in front of.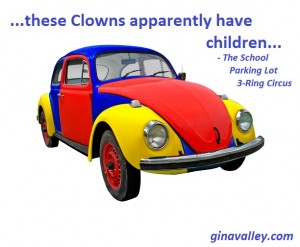 This charming dialog bounced back and forth between our two stars for a few minutes, right there in the middle of the school parking lot. The parking lot of the school both of these Clowns apparently have children attending.
The performance in Ring #2 was brought to a close by what I can only assume was either The Ring Master or The Strong Man. I couldn't see this third player in our drama, but I heard his very deep, booming voice call out to Clown#1 and Clown#2, "Hey! Shut the bleep up (he was apparently speaking their language to maintain cohesion throughout the performance), or I will shut your bleeping traps for you. There's moms and kids all over this place, you dumb bleeps. Show some bleeping respect and watch you mouths or I will bleeping kick both of your bleeps."
And, so ended the performance in Ring #2.
All I could think at that point was, "Well bleeping said, my brother."
Laugh Out Loud! – 
-gina
Click these links to get all of the giggles from Ring #1 – The Circus Parade Of Idiots: Coming To A School Parking Lot Near You!!! and Ring #3 – Send In The Clowns & Their Car Keys!!! so you don't miss any laughs.
Seen any interesting street performers lately?  Have you added any interesting words to your vocabulary recently? Shoot me a comment. I'm looking forward to hearing all about it.
Photos courtesy of 
Stock.xchng
 – Used with permission