Top 10 Things That Surprise Every Kid Every Time…Gina's Favorites
by Gina Valley
We're reaching the dreaded end of summer, and the bastion of togetherness it's given our family. All this time together has reminded me how some things never change. So, I knew my Top 10 Things That Surprise Every Kid Every Time post would be perfect for Throwback Day this week.
Laugh along with this Gina's Favorites post.
Top 10 Things That Surprise Every Kid Every Time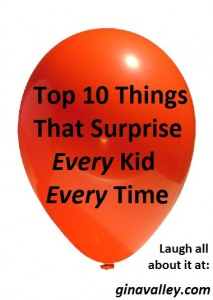 Parenting is all about surprises.
Surprise!  You'll never sleep again!
Surprise!  Everything you own will be sticky forever!
Surprise!  One tight hug from your grubby little monster makes it all worthwhile.
I am constantly surprised by my kids.  I guess on some level I expected that.
But, what really amazes me is how often I surprise my kids.  It's shocking, really.  Some might even say eye-rolling, mind-numbingly frustrating, but I'll just stick with surprising.
Here's 10 of the things that surprise my kids, and probably shock yours, too.
Top 10 Things That Surprise Every Kid Every Time
#10. Shoes:  There's not a kid on the planet who isn't surprised that they need shoes to go places.  And, what's more, there's not a kid on the planet that has any idea where they put their shoes when they took them off.  The greater the urgency of departure, the greater the difficulty in locating the suddenly mobile and invisible foot coverings.
#9.  Bedtime:  Every child is shocked and amazed every night that they have to go to bed.  They are not tired.  They have no reason to sleep.  And, they can't figure out why you, their frazzled parent, are making such a big fricking deal about it.
#8.  Flushing:  No child has any knowledge of the need to flush.  They are completely unaware of others lack of desire to happen upon their happy bowl of output.  They have no recollection of ever having been told of the need, nor the process used, to flush.  This part of the loo'ing procedure is always a mystery to them.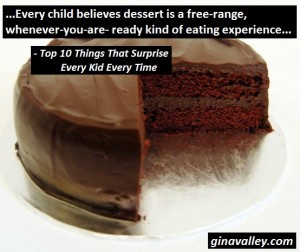 #7.  Dessert:  Every child on the planet is under the impression that dessert is a free-range, whenever-you-are-ready kind of eating experience.  They are completely befuddled as to why you, their parent, are opposed to them plopping down to dive head first into the ice cream tub, while you are busy putting the final touches on a healthily-prepared dinner.  When they give into your unreasonable demand of "no sugar right before dinner," and switch to Cheetos, they are equally mystified by your continued opposition to their scaling of the food pyramid.
#6.  Sharing:  All children are in favor of sharing.  They expect you to share your cookies.  They expect the kids at the park to share the swings.  They expect their brother to share his Legos.  What surprises them is that they must share.  It doesn't matter if they have 5023 green plastic Army guys or 11018 Polly Pockets or a 5 gallon tub filled with 3 different kinds of popcorn, those are theirs, and theirs alone.  Sharing them with others is a tremendous imposition, and will be met with a DefCon Level Red defense mechanism.
#5.  Coats on a cold day:  If there's snow on the ground and frost on the window, there will never be a coat on the kid.  Nothing triggers a child's anti-coat-itis like a really cold morning.  Being required to wear outer wear to the store is an insult.  Insisting your child don anti-frostbite gear to wear to school is akin to insisting said child rub broken glass in his or her eyes.  They are shocked you can be so unreasonable.
#4.  No coat on a hot day:   All children are shocked by their parent's lack of praise when they do finally relent and agree to wear their parka.  The fact that they chose the hottest day in July to parade about in their snow coat and boots doesn't seem odd to them, in the least.  They can't understand why the very same parents that wanted them to wear the very same coat only 6 months earlier are insisting they take it off and leave it at home before taking them to the park.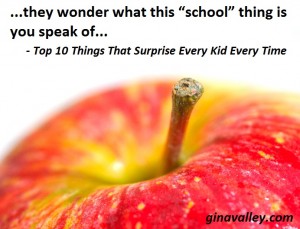 #3.  School:  Every child's mind is filled with fog when they are told to get ready for school.  They wonder what this "school" thing is you speak of.  They seem to have some recollection of doing some sort of "school" thing before, but that was ages ago.  They don't understand why they have to go again today, when they were just there yesterday.  Monday mornings bring a complete school amnesia, which often spreads to parents, as well.
#2.  (pun unintended, but nonetheless giggle worthy) Poop smells bad:  The olfactory qualities of doody surprise a child every time they are exposed to poop-esque fumes, to such an extent that they have an uncontrollable need to announce the presence of the aforementioned fumes to everyone in both the immediate and not so immediate area.
My kids have even requested permission to text their dad, siblings, and friends on multiple occasions when a yell wouldn't carry far enough to spread the good news about the bad odor.  If we're in a public place and a stranger created the impressive nasal exhibit, the need to herald its arrival becomes even more urgent and boisterous.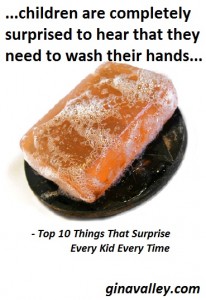 #1.  Washing hands:  Children are, despite having been reminded multiple times throughout each day, every day for their entire life thus far, completely surprised to hear that they need to wash their hands.
Kids could spend the afternoon de-worming the cat, digging in the yard, and helping spread manure over the lawn, and still land directly at the table to eat a sandwich after flying through the back door.  They don't find the black prints their dirty hands leave on the white bread the least bit unappealing, rather they brag about their smudges and proudly compare with the grungy minions next to them.
One of my kids even said to me once, "You know, mom, if you didn't keep your hands so clean all the time, your body would probably get used to it and you wouldn't get so sick when you eat bad stuff."
Why doesn't it surprise me that my kid is working out ways to successfully eat bad stuff?
Laugh Out Loud!
-gina
What surprises you about parenting?  What repeatedly surprises your children?  Shoot me a comment.  I'm looking forward to hearing all about it.