Has mayhem beseeched your home?  Are there strange sights, sounds, and smells?
Perhaps you're hosting a Super Bowl party.
But, how can you know for sure?  Here's some symptoms to check for:
Top 10 Signs There's A Super Bowl Party At Your House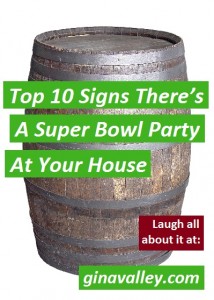 #10.  For the first time in the history of the world, CostCo is out of sour cream.  This might also be a sign that the world is coming to an end, so I recommend you pick up some extra cases of water bottles while you're there.
#9.  Your "sports crazy, always-watches-the-game-with-you, his favorite team is playing" teen, decides that he should stay out all night Saturday night before the Super Bowl for a marathon video game session with friends, insuring he'll be exhausted and grumpy during the game.  And, he forgets to ask permission to go.  And, he forgets to mention he is leaving.  And, he forgets to mention he's borrowing your car (insuring that you'll be exhausted and grumpy during the game, too).
#8.  Your children have used window markers to create colorful Super Bowl themed pictures…on your hardwood floors.
#7.  Your 15 year old daughter announces she has just become a strict vegan.  If you missed the announcement, don't worry, she'll re-announce it to every person who enters your home or eats something for the next 3 months. Your 11 year old son will help to make it a smooth transition for her by announcing to her "Mmmm.  Animal parts!" every time he eats any non-vegetable item.
#6.  Someone spiked a stuffed football into the toilet of your guest bathroom, attempted to destroy the evidence of the spiking by flushing the stuffed football, and now your guest bathroom toilet is so clogged that the pipes are shaking and possibly screaming. Although, the screaming might actually be coming from you.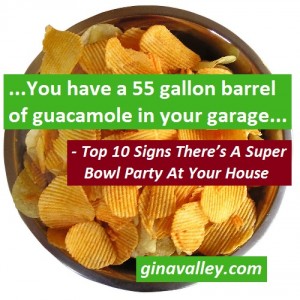 #5.  Your son sits down on your sofa, and the thing breaks. Collapses.  No warning – just kerplunk (I don't think I've ever heard of a sofa breaking before. I'm not sure I would've believed it now if I hadn't seen it with my own eyes).
#4.  Your dog decides that he needs a new chew toy, and chooses the cord for your new Crockpot to tide him over.
#3.  You have a 55 gallon barrel of guacamole and 12 bushels of tortilla chips in your garage.
#2.  Your family's meal plan centers around the 4 basic food groups of chips & dip, hot wings, chili, and antacids.
#1.  You know when your husband says, "Hey Baby, I've got something big for you!" he's talking about the new 72" HDTV he bought on the way home from work "so everyone can see the game clearly."  He's a giver like that.
May the remote be with you.
Laugh Out Loud!
-gina
Do you plan to watch the Super Bowl?  Are you getting together with friends or family, or do you prefer to go solo so you have complete control of the remote?
Photos courtesy of Stock.xchng – Used with permission