Top 10 Things That Make A Grumpy Teen Grumpier
by Gina Valley
Several of my adorable children have morphed into other-worldly creatures recently.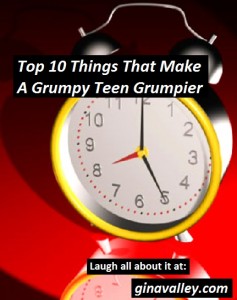 That's right.
They're teenagers.
Sometimes, teenagers get a bad rap, even though they're often full of exciting ideas, bursting with enthusiasm, and happy to help.
On the other hand, they're sometimes full of bologna, bursting with rudeness, and not the least bit interested in standing up, much less helping.
As I listened to my teenage progenies mumbling and grumbling throughout our home this morning, I wondered if anything could make them grumpier.  Turns out many things can!
Top 10 Things That Make A Grumpy Teen Grumpier
#10.  Waking up on time.
#9.  Waking up late.
#8.  Her sister wearing her sweater without asking.
#7.  Not getting her sweater back because it's actually your sweater, which has been AWOL, apparently in her closet, for 2 months.
#6.  Being offered a hot, home-cooked breakfast.
#5.  Not being allowed to dress like a hooker.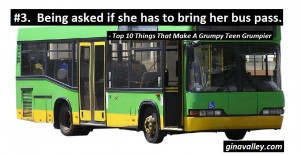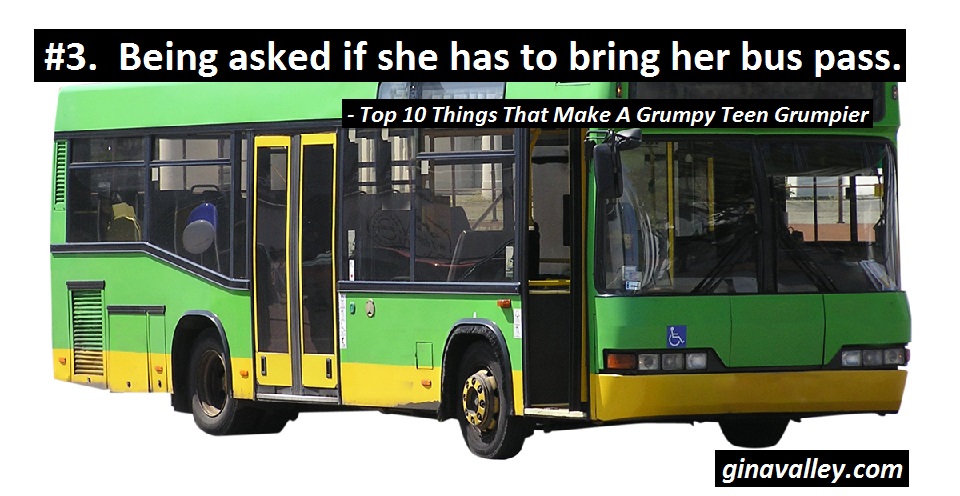 #4.  Having to say good bye to her mom, on her way out the door to catch the bus.
#3.  Being asked if she remembered to bring her bus pass.
#2.  Having to return to her bedroom to get her bus pass.
#1.  Having someone wave goodbye and call out "I love you! Have a nice day!" as she races off toward the bus stop.
I'm thinking mine are so grumpy lately, because they keep getting up on the wrong side of their beds. I should move their beds away from the wall before they get home.
Laugh Out Loud!
-gina
How do you handle a crabby kid? Do you run and hide or giggle and humor them?  Shoot me a comment. I'm looking forward to hearing all about it.