Top 10 Surprising Things In My Closet
by Gina Valley
I'm off this week to attend to issues my children are having.
To keep you in giggles, read and laugh along with this Gina's Favorites post.
Top 10 Surprising Things I Found While Cleaning Out My Closet
I cleaned out my closet last weekend.
It was frightening.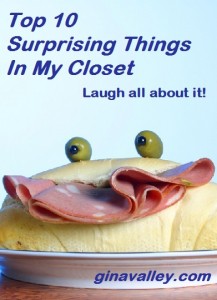 I found myself muttering the phrase, "What was I thinking?  What was I thinking?" over and over to myself as I removed each garment from the rod.  "This must have been on sale," seemed to blurt out frequently, as I opened dusty shoe boxes containing shoes I was shocked had made it home with me.
I've just now reached the point where I can think and write about the experience without the memory of elastic pants and plastic pumps found deep within its confines making me cringe.
Much as I'd like to forget about many of the things I discovered in my closet, some of the stuff I found was truly noteworthy.
Top 10 Surprising Things I Found While Cleaning Out My Closet
#10.  My 8th grade graduations dress (No, it doesn't fit.  Not even close.  Yes, it inspired me to go to the gym this morning).
#9.  Bright blue taffeta bridesmaid dress (clearly saved because of its great re-wearing potential).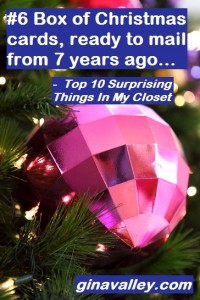 #8.  A bag of Easter candy with a receipt dated 2007 (I won't tell you who saw me toss that in the trash, and said, "Don't just throw that away.  It might still be good.  Let me try some," but there's a very good chance I'm married to him.  And, no, I didn't let him eat it.  Like I need another trip to the emergency room this week).
#7.  THREE suede 4" heeled boots  (Three?  No wonder that box was so big).
#6.  Box of Christmas cards (stamped, sealed, addressed, and ready to go from 7 years ago.  Oops).
#5.  Black and white pumps I wore the first day of my first engineering job. (yes, they're still awesome.  And, weirdly, they're too big.  Did my feet shrink? How can I make other body parts do that?)
#4.  DVD's of Seasons 1 & 2 of Justified (purchased to give to Son#1 on his birthday.  2 years ago.  Oops).
#3.  The puke green raincoat I received as a gift 6 years ago, that I'm sure I donated to the charity clothes drive 5 ½ years ago (how did it get back here?  I'm a little afraid to try to give it away again).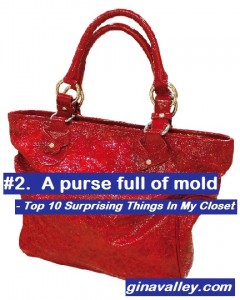 #2.  A purse full of mold (my favorite red leather purse had become the final resting place for some sort of volatile food item, and, in turn, the birth place of a whole colony of mold.  On a related note:  I need a new red purse).
#1.  The cane the nurse insisted I take home with me when I checked out of the hospital following a procedure to restore my badly dislocated shoulder (she'd said, "All joint surgery patients must be issued a cane when discharged."  When I pointed out that it was my shoulder joint they'd worked on, and that I didn't see how the cane would help me, she'd said, "I'm sure you'll work something out").
If I were to put all of that together, it'd make one heck of an outfit.
Maybe I could be on Project Runway.
Or, an episode of What Not To Wear.
Laugh Out Loud!
-gina
Anything interesting lurking in your closet?  How long is it safe to keep candy?  Shoot me a comment.  I'm looking forward to hearing all about it.
Photos courtesy of Stock.xchng – Used with permission