You're Not You When You're Hungry
by Gina Valley
We've all seen that Snickers' commercial.
"You're not you when you're hungry…"

Last night I was not me.
I had a major case of the whinies.
I did not want to ride in the stupid car down the stupid freeway.  I did not want to walk through the stupid village to the stupid restaurant, which would probably take too long and make us late to the stupid concert.
I did not want a stupid basket of bread, because all those stupid carbs would spoil our stupid dinner, but my husband told the stupid waiter, "Yes," when he asked if we wanted any.
I was not me, and I didn't even know it.
A basket of bread appeared on our table.  I put a piece on my bread plate, just to be polite.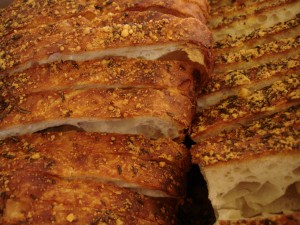 Then, I noticed it smelled heavenly, so, just to be polite, I took a bite.  It was the freshest, most buttery focaccia I have ever tasted.  Before I knew what I was doing, I'd inhaled my piece, and was reaching for a second.  I thanked our waiter, who was "Scott," and not at all stupid.
I realized that this yummy focaccia was the first thing I'd had to eat the entire day, and, what with it being 7:30PM, I, obviously, was very hungry.  And, I was not me.
You know it's not just me and the Snickers people who think our whole attitude changes when we're hungry.  Even The Big Guy agrees.
I remember reading somewhere in the Old Testament where Elijah (one of the prophets, who had just been enabled to do a boat load of miracles) had a major case of the whinies (i.e. he actually prayed to die because someone one was being mean to him), and God said, "Dude, chill out and have a Snickers," (ok, maybe I'm paraphrasing a bit.  I think he actually gave him a loaf of bread and jar of water and a nap.  But, they didn't have Snickers back then, or I'm sure he would have dropped a few of those down).
As I finished my second piece of focaccia and started on my minestrone soup, I realized we weren't in a tiny, loud, crowded dive.  We were in a quaint, lively bistro.
The walk back to the car was not long and through a rundown neighborhood, as it had been on the way to the restaurant.  It was a short stroll through an eclectic village filled with interesting shops and restaurants to window shop as we sauntered the short distance back to our car.
Isn't it amazing how our attitude can change when we're hungry? 
It's especially amazing to me that I'm not even usually aware of the change being hungry can make in me.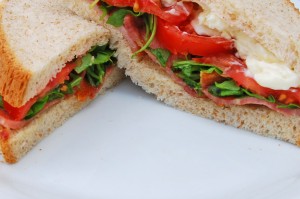 I wonder how many international incidents have been caused by diplomats simply being too hungry.  I wonder if the whole national government shut down here in the United States could have been avoided if someone would have passed out some coffee and sandwiches.  Or, some of that magical focaccia I had?
But, I think knowing we aren't ourselves when we're hungry has much greater implications than just the way physical hunger affects us.  I think a hungry soul is a much greater problem.
A hungry soul becomes discouraged and frustrated and bitter easily.
We aren't ourselves when our soul hungers.  It's a deeper problem than physical hunger, but often feeding our soul is as simple as feeding our body.
When we speak of soul hunger we often think of time in prayer and reading the Bible, both of which are nourishing in unique ways.  But, I think our world is made of things to fill our soul.  I think that's one reason those things are here with us.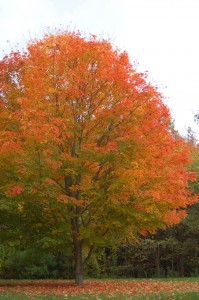 Beautiful mountains and seashores feed my soul.  A walk with my kids feeds my soul.  Reading and writing and laughing feed my soul.  Finding the solution to a problem and developing plans feed my soul.
So many parts of life drain us, feed on us, so to speak.  We have to be careful to make sure that we're engaged in activities that feed us, as well.
One of the biggest things in life is work.  If our work is only draining us, not bringing us joy or satisfaction, it's time to reevaluate.  We spend too much time at work to allow it to be a sink hole that sucks us dry.
That doesn't mean we need to quit and find a new job, although it might.  It means we need to look at our job and figure out how we can make it challenging, joy inspiring, interesting.   Sometimes even a job we love, even if that "job" is fulltime parenting, can lose its luster.  We have to find new ways to do it, new ways to make a difference, new ways to encourage others.
No matter where we are, if we're hungry, we must make sure we're fed.  That's the only way we can truly be who we are.  We owe it to our families, our coworkers, ourselves.
Make sure "you are you".
Love!
-gina
How do you know when your soul is hungry?   How do you feed it?  Shoot me a comment.  I'm looking forward to hearing what you think.