Top 10 Worst Gifts For Mom
by Gina Valley
If you think it's stressful trying to get the mom in your life the right gift, you should try being the mom.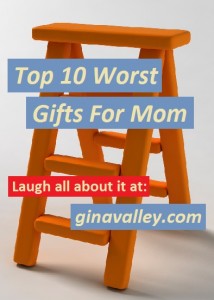 Thanks to Facebook, InstaGram, and the entire host of internet life invaders, the pressure to receive the perfect physical manifestation of appreciation for all that you do as the mom has been bumped up to nearly unreachable heights (do not give mom a step stool to help her reach unreachable heights).
Come noon (do not give mom a watch, so she'll know when it's noon) (unless it's jewel encrusted and returnable) on Mother's Day any mom without a photo of a hand-drawn card or beautiful bouquet of flowers or artful plate from a fancy buffet to post is all but facing certain ridicule from the mom community.  I can't be posting a pic of an ironing board cover or a hedge trimmer or a plate from The Trough without facing some serious social media shaming.
I know my family means well, but sometimes they seem to forget who I am and that they know me.
So, to help my family out, here's some things they can cross off their list now.
Top 10 Worst Gifts For Mom
#10.  Breakfast in bed – It's awkward. It's messy. And, even if you were a 5 star chef (which you are not) or our kids were child chef prodigies (which they are not), I still wouldn't want breakfast in bed. In fact, I don't want anyone to cook anything for anyone. Cooking equals mess, and I don't want the mess (if you want to spend time in the kitchen, after you order in dinner and make brunch reservations, feel free to clean out the fridge. I do recommend a HazMat suit, though).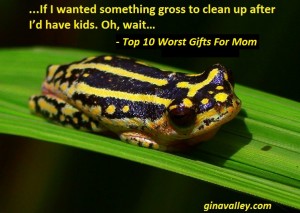 #9.  A Chihuahua – No puppies. No kittens. No freshly caught tadpoles. Not even a cricket for luck. No pets of any kind. If I wanted something gross to clean up after I'd have kids. Oh, wait…
#8.  A Rhododendron  – Yes, it's lovely. Sure, it seems like a plant I can put in the ground, and have forever, is a much more sensible choice than a bouquet of flowers I'll toss in the trash in a week. BUT, getting to toss them in the trash in a week is the second best thing about a bouquet of flowers. I get the beautiful, but I don't get saddled with the responsibility of something else to take care of. I'll take the love-it-then-toss-it bouquet anyday.
#7.  A Goat Bra – Giving any lingerie to a woman is really a gift to the man who presents it to her, and a big mistake. BUT, a goat bra is even worse. A friend of mine received one of these for Mothers' Day from her well-meaning, but clueless husband. Her pet goat was pregnant at the time, and the feed store guy had advised her husband that the goat, for its comfort and protection, would be needing some support wear. Her husband decided it would be a delightful, practical gift. Turns out, it was neither. Even the goat didn't like it. No mother, of any species, wants  gift of lingerie for Mother's Day.
#6.  A "Fun" Outing For The Whole Family – When Jerry Seinfeld said that there is no such thing as fun for the whole family, he was right. Do not take me to the zoo or Disneyland or the beach for Mother's Day. I'd love to go some other time, but not on "my day." No family outing is a celebration for mom. It's another work day for mom. If you want to take our children, though, and leave me home to nap in peace, go for it.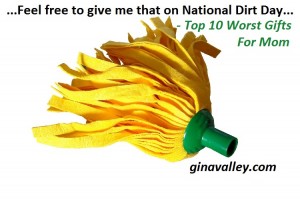 #5.  Glow-In-The-Dark Organic Cleaning Solution – No matter how cool, no matter how cutting edge, no matter how much I swore I wanted it when we saw the infomercial in the middle of the night after that Bono concert, do not get me that magic vacuum or space age dust rag or glow-in-the-dark organic cleaning solution or any other item to clean anything. Feel free to give me that on National Dirt Day or even on a Tuesday, but never on Mother's Day.
#4.  That Necklace Your Mother Says I'd Look Great In – Anything your mother (or sister or anyone but you and our kids) picked out is a big no-no. There's nothing worse than enjoying something I think you chose for me, and hearing your mother say, "I told him you'd just love that." If you don't want to make the effort for me yourself, I don't want you to present me with the gift. And, believe me, you don't want the resulting cold front I'd be presenting you with in return.
#3.  A Photo Of The Whole Family – I want to pick out which picture to enlarge of our family. A framed blow up of that horrible family photo my cousin took of us last Christmas where I look like a cow chewing its cud is not my idea of a charming family memento. You might as well get me a case of SlimFast Shakes. Which reminds me…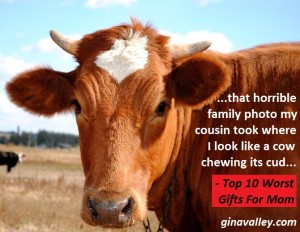 #2.  A Case Of SlimFast Shakes – Yes, I might buy something like this occasionally. Yes, I mentioned I need to get a new FitBit, since my last one seems to have been less than sturdy (apparently, stomping on those because you only made 5083 steps that day breaks them. Who knew?). Yes, my gym wear is so worn out people occasionally think I'm homeless. BUT, if you give me anything fitness related, even though you're sure I'd love it or I'd buy it for myself anyway, I can guarantee that my next cardio activity will be making sure you won't live until Father's Day.
#1.  A Hooked Rug Maker – Anything with the word "Maker" in the name is a huge fail in the gift world for me, because it's a lie, and I hate lying. It's not a Cake Pop Maker or a Quesadilla Maker or a Hooked Rug Maker. It's a Spend All Day Trying To Make Cake Pops Maker or a Spend All Day Trying To Make Quesadillas Maker or a Spend All Day Trying To Make A Hooked Rug Maker.  I do not need something else to do. This is not a gift. It's a chore. Leave it at the store.
Remember, all I really want is for my kids to make me a card, anyway.
And, a sparkling, clean house.
And, for everyone to get along.
You know, simple stuff.
Laugh Out Loud!
-gina
Have you ever gotten a real doozy of a gift?  Have you given a crazy one? Shoot me a comment. I'm looking forward to hearing all about it.
Photos courtesy of 
Stock.xchng
 – Used with permission.