Laugh along on Throwback Day with this Gina's Favorites post.
Top 10 Signs You're A Work From Home Parent
This whole Take Your Child To Work Day thing is an interesting idea. But, some of us hit a bit of a kink when we try to put it into practice.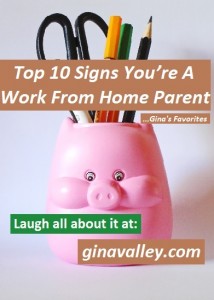 Did you find that when you tried to take your child to work with you, your child was already there?  I did. I thought I was losing my mind. Again.
I wondered if I should check my symptoms on WebMD. After all, I felt dazed and confused.
But, then I remembered, I'm not crazy; I'm a WFHP (Work From Home Parent).
Do you feel like you might be losing your mind?  If so, you might be a WFHP (Work From Home Parent), too.
Here are some symptoms to watch for:
Top 10 Signs You're A Work From Home Parent
#10.  You've found yourself in a fog, holding a leaking juice box in one hand and a marketing report in the other, torn between which to deal with first.
#9.  Your printer has been flashing "paper jam" when the problem was in fact a "jam sandwich" jam on three separate occasions.
#8.  The last four phone numbers you wrote down are inscribed on the back of a paper plate because your folio pad is filled with drawings of dinosaurs by a young up-and-coming artist.
#7.  You took notes during your last conference call with a purple crayon, because you hid the real pens so well after the aforementioned artist used them to re-design the wallpaper in the foyer that even you can't find one.
#6.  There are more Legos than file folders on your desk.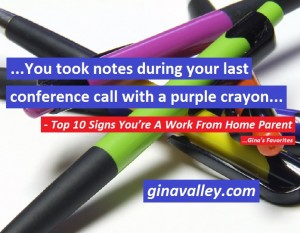 #5.  Your paper clips are easy to find, but hard to use, because they're all connected into one giant chain that's strewn across your doorway like a flexible limbo bar.
#4.  You had to use plastic safety scissors to cut out the images for the display for your last presentation.
#3.  You have offered a large cash bribe to someone under the age of 10 to be silent during a phone call.
#2.  The majority of your file folders have peanut butter smudges on them somewhere.
#1.  You knew when you saw this list you'd have to wait until the middle of the night to read through it if you wanted to do it with fewer than 6 interruptions.
Sound familiar?
You're not crazy.  You're a parent trying to work from home.
Of course, there are a lot of similarities between the two.
Laugh Out Loud!
-gina
Are you a work from home parent? Were your parents work from home parents? How'd that work out? Shoot me a comment. You're already here anyway, and I'm looking forward to hearing what you have to say.
Photos courtesy of 
Stock.xchng
 – Used with permission.