Will Our Kids Fit In That Suitcase?…Gina's Favorites
by Gina Valley
The rule in our home is: no throwing or bouncing balls inside. Two of my boys got new baseball mitts this week, and have conveniently "forgotten" that rule about a million times so far. Casualties up until this point have included 2 table lamps, a ceiling fan, and their frog's aquarium.  In honor of all their unsanctioned throwing, I picked my 
Did We Put The Kids In The Carry-On?
post for Throwback Day this week. Laugh along with this
Gina's Favorites
post.
Did We Put The Kids In The Carry-On?

Maybe the person who wrote the article I just almost read is a parent.
Maybe.
I'm not saying it's not possible the person who wrote the article is a parent.  I'm just saying that when I saw the title, 50 Ways To Entertain Kids On A Plane, I figured it was written by either a parent or some other individual who has spent a lot of time traveling with children on planes.
But, the second I saw Way #1 To Entertain A Kid On A Plane I gave up wondering if the author was a parent, and started wondering if the author had ever even met a child, much less been inside a plane with one.
The first idea was to "play a gentle game of catch."  Seriously.  That's what it said to do.  On the plane.
I gotta say, playing catch on the plane, not a good idea.  In fact, not a good idea for so many reasons that I think I could write an entire book just on why not to do that. I think that most people, parents or otherwise, could.
Here's a tip for the author: in general, while on a plane with a child, it's the goal of all adults, not just said child's parents, to do the following:  1. Keep the kid from crying.  2. Keep the kid from throwing things.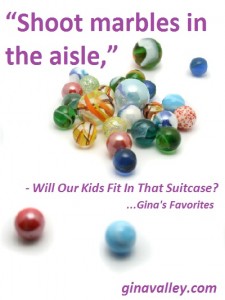 So, if you're going to play catch with the child, you might as well poke him or her in the eye, and get the crying thing out of the way, too.
I should have kept reading.  Maybe #10 was "Start a small fire to look at the pretty lights it makes."
Perhaps #17 was "Shoot marbles in the aisle," with a special note that the game is even more fun if done while the drink cart is cruising around.
Or maybe #23 was "Alternate giving your child giant cookies and & 7Up until she vomits so much that you think she'll turn inside out" (I was across the aisle from that "entertainment" once.   It was awesome.  Made a 2 hour flight to Washington feel like we'd changed our minds, and decided to do the 15 hour jig to the land down under.  But, when we got off the plane, there were no koala bears.  Just a horrible vomit smell wafting off of every passenger from the flight).
I wonder if #37 was "Bring a dowel so your child can poke the guy seated in front of him," because sometimes just kicking their seat isn't nearly enough entertainment.
Do you think #43 might have been a reminder to, if you're traveling with more than one child, "Bring only one of each item, because the time will pass so much faster if your kids can bicker over whose turn it is to hold the Etch A Sketch" (which, by the way, is a really good thing to bring on the plane).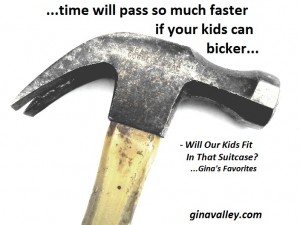 I'm almost certain that #48 would have been "Place rolls of caps onto your tray table and strike with a hammer for a fun auditory and olfactory experience."
How many hammers does the TSA let you bring in your carry-on these days?
And, do they need to be in a Ziploc bag?
Laugh Out Loud!
-gina
What's your favorite piece of dumb parenting advice some "expert" offered?  What fly-by-the-seat-of-your-pants idea did you find that works great for your family?   Shoot me a comment with all the details.  I'm looking forward to hearing about it.
Photos courtesy of 
Stock.xchng
 – Used with permission