Why They Will NOT Let Me Run The UN
by Gina Valley
My 2 youngest decided to have a discussion on the way to their sister's basketball game last week.
It was a rather lengthy discussion. In fact, some (me, for instance) might say it was a marathon-bicker-fest or a non-stop-argument or a major-pain-in-the-neck-for-everyone-unlucky-enough-to-be-within-earshot.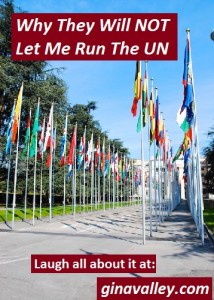 If I didn't know better I'd have sworn they'd somehow morphed into 2 little, extremely-grumpy old men.  Their attitudes had passed foul and landed on you-have-got-to-be-kidding-me.
They had bubbled close to the surface for a week before they burst into that full boil crab fest .  Just my luck that they decided to do it while we were all trapped in our van on the way to my 15 year old's basketball game.
Now by "we" I mean me, all of my kids, and half of the basketball team. And, by "trapped" I mean we were suddenly stuck in stop and stop traffic (that's like stop and go traffic, except you don't go).  There was no way I could pull off of the freeway for a quick stare-of-death or MML (Major Mom Lecture).
So, as my OCD stress-level was flying off the charts, worrying that we'd not only be late for the team's call time, but quite possibly miss the game altogether, I was serenaded by the sound of 2 boys bickering non-stop, to really push me to the edge of insanity.
What were they arguing so intensely about that they had nearly come to blows, and were driving everyone insane?
Nothing.
And, everything.
The color of the sky, how big a sea eagle is, who saw the funny cloud first, whether one of them was breathing too loudly, if trumpets or saxophones are better, long socks VS short socks, which color mouth guard works best, who woke up first, who slept on the sofa the most times, which episode of Kickin' It is the best, what kind of stuffing is in the coats you wear to Antarctica, which flightless bird is the meanest, and on and on and on in a desperate, unending cycle of negativity that made me want to stick my finger in my eye.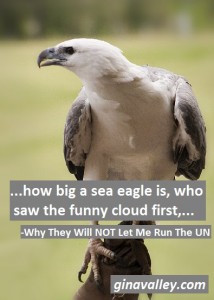 Oh. My. Gosh.
Judging by the way they were trying not to laugh, I could tell the basketball team members riding with us found my youngest boys' crabby antics hysterical. Clearly, none of them had little brothers or sisters.
My own children made no effort to hide their feelings about their little brothers' behavior.  They alternated laughing at them with hollering at them to "Knock it off!"  Both reactions served to add fuel and energy to the grumps' fire.
I was busy oscillating between shock that my sons would behave so terribly in front of "company," and constantly recalculating what time we'd be at the game if traffic suddenly disappeared (which it never did) (until we were off of the freeway and a couple of hundred feet away from the gymnasium door).
Nothing swayed the foul tide rushing out of my 2 darling, young sons. I tried bribing, explaining, scolding, guilting.  Nothing worked.
I made them change seats, so that they were in different rows, thinking the whole "out of sight, out of mind thing" might apply to children who have lost their minds.  It did not.  Instead of creating sudden peace, changing seats just provided distance to encourage throwing things at each other, and yanking hair and seatbelts.
I hate to admit that, after one of the offenders screamed that his brother needed anger management classes, I yelled towards my spewing offspring, who were, luckily for them, seated near the rear of our van "If you don't knock it off, I'm going to pull over and show you some anger management right here on the side of the freeway!"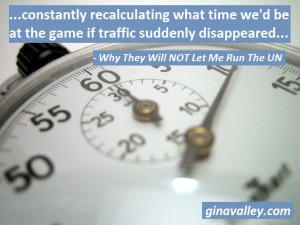 This brought peals of laughter from the basketball team, and caused my 2 grumpy sons to sink lower into their seats.  Of course, it did not diminish their arguing.
I kept thinking "Lord Jesus, don't come today!" I'd hate to go out on that note.
As I sat trapped in traffic listening to my 2 minions continue to grumble, I remembered a comedian saying that his dad used to keep a fly swatter in the car to reach kids in the backseat.  I made a mental note to buy a fly swatter, preferably with an extra-long extension handle, as soon as possible. I knew I'd never use it, but it would be a great "Peace through Strength" kind of thing, or, I guess more a "Peace through Realizing Mom Can Get Us While She's Driving" kind of thing.
My boys argued the entire hour and 15 minutes we spent going to the basketball game.
They argued walking from our van into the gymnasium.
They argued through the entire basketball game (even though I seated them at opposite ends of the bleachers) (honestly, their charade and lip-reading skills, which allowed them to continue arguing from such a distance, would have been impressive had they not been so infuriating).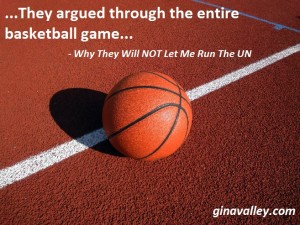 They argued walking from the gymnasium back to our van.
They argued as we drove onto the freeway to head for home.
Then, they stopped. Suddenly.
No slow down. No warning.
Just a seize and desist so sudden that all of us trapped in the van with them, me, my kids, half of the basketball team, nearly got whiplash craning our necks to see what had caused the sudden drop in din.
My young progenies were leaning against each other, hands folded peacefully in their laps, smiling, and sound asleep.
It was such an insane and sudden change that I had the urge to burst out laughing, but I didn't dare.
My oldest son expressed what I'm sure all of us hostages were feeling, "If anyone wakes them up, I will pull over and show you some anger management on the side of this road."
My thoughts, exactly.
Laugh Out Loud!
-gina
Have you had a meltdown in traffic? Have your kids had a marathon argument? How did you handle it?  Shoot me a comment.  I'm looking forward to hearing all about it.