Why Did The Chicken Cross The Costco?
by Gina Valley
All I needed was 1 roasted chicken.
I dashed into Costco, walking as quickly as I could, knowing I would have just enough time to hurry to the back of the store, grab the urgently needed chicken, rush to the registers, and, hopefully, quickly pay for my chicken before racing back out to my car and off to pick up Daughter#1 from rehearsal.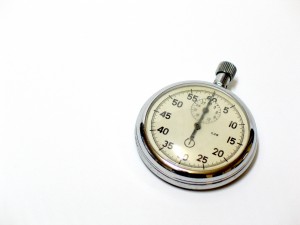 The thing is I shouldn't have needed to buy a roasted chicken today.
Knowing today's schedule would be tight, I'd had The Professor buy two yesterday on his way home, for us to use for dinner tonight.
Recently, half of my kids decided they no longer like Costco roasted chicken, so we only eat 1 ½ chickens for dinner, not the 3 we used to inhale.  So, yesterday, when Son#3 asked if he could eat some chicken for an after dinner snack, I said that he could because I knew 2 chickens were more than we needed for tonight's dinner.
I was surprised when I cruised through our kitchen later last evening, and saw the chicken tray in the trashcan, partly because my kids never throw anything away, and partly because I was shocked Son#3 ate a whole chicken.
Of course, there was that time he ate 14 Taco Bell tacos, so I knew anything was possible.  Still, as it seemed improbable that a 70lb kid ate an entire chicken, I hollered out to Son#3, "Did you eat that whole chicken?"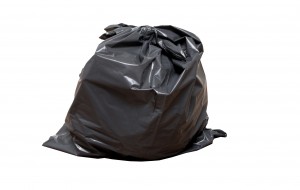 Son#3 hollered back (we think intercom systems are silly.  We prefer to holler at one another.  So much more relaxing), "No, I just had a leg and a thigh."
I looked for the AWOL bird's remains in our fridge, but found nothing.
"Where's the rest of the chicken?"  I hollered to Son#3
"We ate it," Son#3 hollered back.
"All of it?" I asked?
"All of it," he answered.
"Who ate it?" I queried for clarification.
"All of us," he answered without clarifying anything.
More investigation led me to the realization that my chicken haters had reformed and banded together with my chicken eaters to inhale the chicken as dessert, after our big pasta dinner.  I started to get heart burn just thinking about eating dinner after dinner.
It only increased as I realized I'd need to go to Costco to get another roasted chicken to replace the one my kids had inhaled as an after dinner chaser.  I knew there was no time in my schedule for that today.  And, there was no room in my budget for all of the things that suddenly become necessities and self-propel themselves into my cart as I navigate the behemoth store.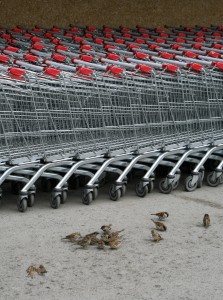 So, today I'd been careful to bring my self-control to the store with me.
I was there for 1 chicken.  Just 1 chicken.
I considered skipping the cart.  Seemed like overkill for one bird.  Then, I remembered the time I was taking a chicken out of my cart and the juice had run out of the tray and down my blouse, down my pants, and into my new shoes.  A cart seemed like a good plan. I'd just use my self-control not to put anything else in it.
I breezed past the giant TV's, the cellphone counter, and the jewelry.  I almost stopped to check out the books, but I remembered my time limit and my promise to myself to stick to my chicken-only plan.
Then, I spotted it.  It was taunting me.  It was beautiful.
Am I the only one who feels like that about the office supply aisle?
Before I could talk myself out of it, a giant pack of assorted construction paper, a 36 pack of Sharpies, and 10000 sheets of notebook paper had joined the 12 pack of rolls of tape I was sure we needed.  Where does all of the tape disappear to?
The next aisle down had that giant frying pan I'd been waiting for them to get back in stock. Had to get  that.
I ignored the rack of hoodies I knew my daughters would love. Even though they needed new ones.  And, their sizes were right there.  But, I couldn't ignore the bathing suits.  They had both Daughter #2's and Daughter#3's sizes in the colors they wanted.  Had to get those.  They'd be gone by the weekend.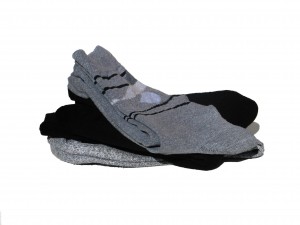 I turned around and was faced with the Wall of Socks.  I knew Son#3 had hijacked nearly all of The Professor's socks.  I grabbed 2 packages.  One for each of them.  They were right next to the athletic socks I like to wear to the gym that my daughters like to borrow.  I hadn't seen any in my drawer for a while.  I grabbed a pack.  Anything to get me to the gym.
I closed my eyes to escape temptation by the kitchen towels.  Our grungy, faded dish dryers could last a few more months.
When I opened my eyes I was right in front of the fluffy white towels I'd bought 2 sets of last year to use for company.  Our house sitter had used them to wash and wax his car while he house sat for us last month.   They were no longer white or fluffy.  They were stiff and yellow and holey.
I like to be prepared for unexpected company.  Two sets flew into my cart.
I'd used the last of my bottle of red wine in the pasta sauce last night, and I knew the white was nearly gone as well.  I need to be able to cook, so I grabbed a couple of bottles of my favorite Italian wines.
After that everything was a blur.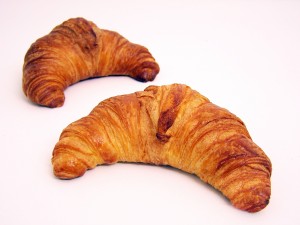 Bagels, croissants, baguettes.  Whole wheat bread, tortillas, pita chips.  Ground beef, chicken breasts, a leg of lamb.
Spinach, baby carrots, broccoli.  Berries – blue, straw, and black.  Watermelon, cantaloupe, Fuji apples.  Tiny tomatoes.  Bananas.  Squash I'd never seen before.
Four gallons of milk, yogurt, sting cheese.  Bagel bites, ravioli, pot stickers.  Grape juice, green tea, sparkling cider.  Mini Wheats, Cheerios, Special K.  Paper plates, plastic cups, disposable flatware.
And more and more and more.
Each entered my cart for a valid reason until my cart was filled, top, bottom, and sides, to over-flowing.
By the time I got to the register I felt like I was having an out of body experience.
I was relieved to see a roast chicken among my booty.  How many times have I left a store without the one item I went in to get?  Nonetheless, I was shocked by my mountain of necessities.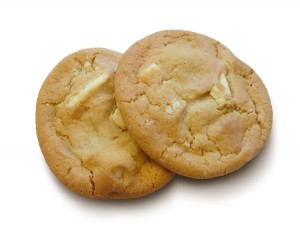 What is it about that store that causes me to lose all self-control and to shop like a hoarder?  Maybe that fresh baked cookie smell is really a mind altering drug.  Maybe all those samples are laced with something.
I took a long look at the mound in my cart, and I made a decision.
Yes, I could make an argument for buying every item in that cart.  Every last one.
But, I left the store with only 1 roasted chicken.
Just like I planned.
I had made a plan and stuck to it.
I had self-control.
And, I had forgotten my wallet and only had $10 in my pocket.
Laugh Out Loud!
-gina
Do you shop at a giant warehouse store?  What jumps into your cart?  What aisle is your favorite?  Shoot me a comment.  I'm looking forward to hearing all about it.