Where's My Sparkly?
by Gina Valley
I'm a bit distressed this morning because I can't find the little velvet-covered jewelry box that holds my favorite sparkly.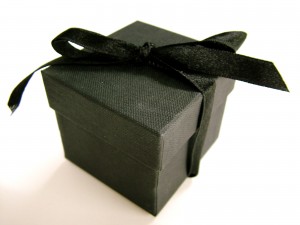 I keep it in my big china hutch in our dining room.
Yes, I know that's strange.
What kind of nut keeps a jewelry box in the dining room?  This kind.
I received the tiny, blue velvet-covered hinged box with the shiny treasure inside it for Mothers' Day from the Professor a couple years ago.  I treasure it.  It's one of my favorite gifts.
I'm sure you've noticed that celebratory days, particularly Mothers' Day, seem to have degraded into a battle over gifting styles.
Personally, I don't understand what the big problem is.  If you're a kid, make something.  Anything.  She'll love it and keep it forever.
If you're an adult, think about what she likes.  Give her something you know she likes.  If you don't know what she likes, either ask her, or re-evaluate your relationship to figure out how you don't know what someone you are supposedly close to wants.
No big deal.
That being said, however, The Professor does not agree.
He finds gift selection and giving mind boggling, despite the fact we've known each other for 2 decades.  I have to admit that my life partner is, in general the worst with gifts.
I think it was Lucy Ricardo who said, "It's not the gift, it's the lack of thought behind it that counts."  I live that.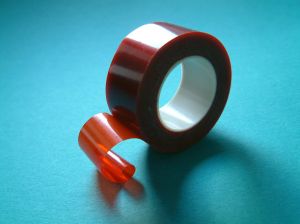 But, sometimes he has a moment of inspiration, and not only gets me a gift, but gets something I'll love.  Like the year he had his classes do group projects for a week, so he could spend every second working on crafting a bouquet of red duct tape roses for me.  The effort was the gift.  I treasure those everlasting flowers because of it.
Or, this year, when he picked out a stunning necklace well in advance of Mothers' Day (because I will be performing on Mothers' Day) that's just my style.
Or, the year he gave me the sparkly in the little blue velvet box.
That year had been a tough year.
My pack had been particularly emergency room prone.  It seemed like I was taking someone to the ER to get stitched up, pumped out, or otherwise repaired a couple times a week.  We seemed to be in the midst of an epidemic of smashed fingers, cut feet, and poked eyes.
The most frustrating part was that most of the trips for emergency medicine were as the result of a pack member doing something dumb.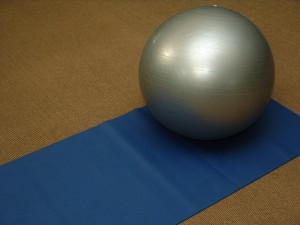 Like when Son#2 tried to bounce off of my exercise ball and missed, instead bouncing off of his brothers dresser and slicing open a 10 inch long gash on his back.  And, then tried it again the next day and broke his tail bone!
Or when Daughter#3 was giving Son#3 a ride on her shoulders, and dropped him, resulting in a concussion for him.
The list was endless.  Every couple days someone would do something they shouldn't have been doing, and I'd get to spend the night in the ER with the victim.
So, it wasn't a total shock to me one evening when Son#3 came rushing down from the room he shares with Son#4, after they had supposedly been sleeping for an hour.
"I swallowed a Magnetix," he practically screamed.
I took a calming breath, all the while thinking, "Well, of course you did.  I do that all of the time while I'm sleeping."
Do you remember Magnetix sets?  They don't sell them here anymore, probably because kids swallow them.  That's unfortunate because they were really cool building sets.  There were small rods and marble sized metal balls.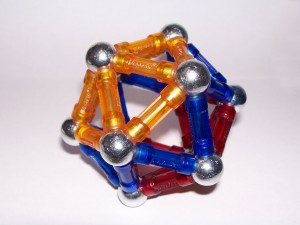 All of the pieces were magnetic, which allowed one to build some amazing things.  They were also small, which clearly allowed one to swallow some amazing things, too.
Now this was not my first time at the "I swallowed something" rodeo, so I knew what to ask.
"Are you sure you swallowed it?"  At least 3 times we'd rushed pack members to the ER only to discover the supposedly swallowed, panic-inducing item in the panic-stricken child's clothes or to have it fall out of their hair while the ER doctor was examining in them.  Even if you find the item outside the child's body while you're there, you still have to pay for those ER visits.
"Yes, I'm sure," he answered.
"What kind of a piece did you swallow?"  I inquired.
"One of the metal balls," he provided. "like this one," he said, handing me one of the familiar reflective, metal balls.
I was relieved that it wasn't one of the 4 inch rods.  Small round objects travel quite well through our children.  We've ran that drill a dozen times.
"How exactly did you happen to swallow it?" I asked.  He was 8 at the time, hardly an age where you worry about them sucking up toys.
Son#3 explained in great detail that he and Son#4 were not so much trying to sleep for the previous hour.  In fact, they weren't even in their beds.  After they'd been tucked into their beds, they had both gotten up, and proceeded to have a magic show.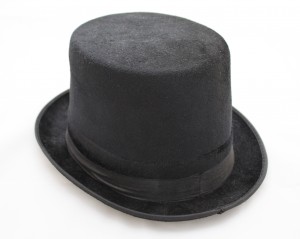 Son#3 was trying to "fake out" his younger brother by pretending to swallow items.
That's right.
You see where this is headed.
When Son#4 refused to believe that Son#3 had swallowed the metal ball that Son#3 was pretending to swallow, Son#3 upped the convincing fake swallow, and accidentally swallowed it for real.
A giant sigh escaped me at the end of his long description, as the prospect of yet another night hanging out with the ER staff was exhausting to even think about.  Nonetheless, that's where we were headed.
I wasn't worried about the shiny sphere lodging somewhere along Son#3's exit lane.  We'd had too many instances of similarly sized and shaped marbles and rocks ingested to even wonder about whether there would be any exit problems.  There would not.
I took him to the ER because I was concerned about the chemical make-up of the metal ball.  I was concerned that it might be reactive or poisonous once it reached the inner workings of my boy.
I think the ER doctors were appreciative of our odd swallowing incident.  None of them had ever dealt with this particular item.  After many consultations with the Children's Hospital and phone calls to poison control, the medical team determined that the metal ball was likely non-reactive.  They sent us home with the customary, "It'll probably be out in a couple days. If not, come back and we'll do another x-ray."
When we were back in the car, Son#3 asked, "Does he mean I'm gonna poop it out?"
"Yes," I said, "that's exactly what you're going to do."
"But, how will I know when I do?" he asked.  "Won't it be all covered with…you-know?  How am I going to know it even came out?"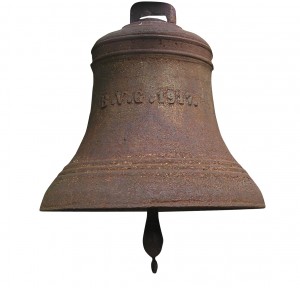 "Trust me, you'll know," I reassured him.
Turns out we all knew, as at the time of exit, Son#3 had failed to shut the bathroom door and the "Clank!" of metal hitting porcelain carried through most of our house.
"Nobody flush this.  I want to show Dad," my little poopoo engineer hollered out from the bathroom.
And, nobody did.  Of course, nobody ever flushes the toilet around here anyway.
When Mothers' Day rolled around about a month later our spate of ER visits had, thankfully, lulled.
I was surprised when the Professor presented me with the small, blue velvet hinged jewelry box, with a gold ribbon tied into an artful bow wrapped around it.  Bad as The Professor is with gifts, he's even worse with wrapping.  This year he wrapped my necklace in the puppy paw print paper I purchased to wrap Daughter#3's birthday gifts in next month.  So, the lovely presentation surprised me, and further piqued my curiosity.
I slid the ribbon off of the box, and gently lifted the lid.  The hinge squeaked ever-so-softly.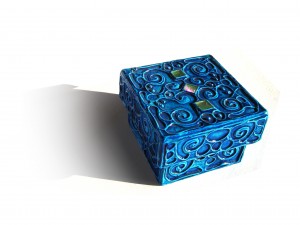 Inside was a sparkly that I never would have expected. It was resting on a tiny blue pillow, looking quite comfortable.  It looked like a large black pearl, with a soft, silver patina.
Next to it was a small label with fancy script writing that read "In April 2.  Out April 5."  I laughed out loud when I read it.  Here was the Magnetix that Son#3 had swallowed, beautifully presented as a keepsake for his mom.
It was almost perfect.
Beaming with pride, Son#3 said, "Don't worry, mom.  We wore gloves, and we soaked it in bleach 3 times."
That made it perfect.
Laugh Out Loud!
-gina
Have any of your family members swallowed something they shouldn't have? What's the most bizarre gift you have given or received?   Shoot me a comment.  I'm looking forward to hearing all about it.