When EVERY Day Is Take Your Kids To Work Day
by Gina Valley
I got a call from Kelly, a former office mate. She told me that she's considering taking a flex time position, and she was wondering if my productivity had changed since I made the jump to working from home fulltime.
I laughed and laughed and laughed. She's such a kidder.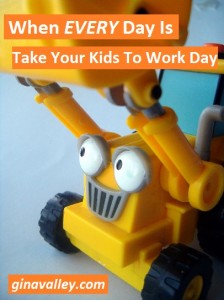 Turns out she wasn't kidding.
She has 2 preschool kids and wants to spend more time with them. So, she actually wanted to know what my days are like since my commute changed from the 405 freeway for an hour to the upstairs hall for 25 feet.
My first impulse was to ask her if she knew the definition of bedlam.  But, I decided instead to give her a few examples of life when every day is Take Your Kids To Work Day.
I panic and race through our house several times a week to check for disasters when I suddenly realize it's quiet and I've been uninterrupted for 10 minutes.
I check at least twice that everyone is wearing underwear before I Skype with a client.
I've stopped work, even though I had a deadline looming, to go look at the "giantest worm in the whole world ever" twice, just this week.
I have 3 different colors of glitter glue in my office supply cabinet.
There is a stuffed animal or toy truck occupying the guest chair in my office nearly all the time.
I have, without thinking, asked the FedEx guy if he needs to use the bathroom before he leaves, and have also accidentally reminded the UPS guy to use his inside voice.
I've been late heading out to a meeting because my car's windshield was completely covered with Post It notes with crooked little smiley faces drawn on them.
There is finger paint in my top desk drawer. Not all of it is in its container.
I'm currently out of Wite-Out because someone used it to paint his red Hot Wheels Trans Am so it would be camouflaged in the snow.  And, by "snow" I mean the big tub of vanilla ice cream I bought 2 days ago.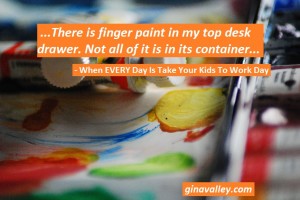 I've been side-tracked by the need to perform an "egg frying on the sidewalk" experiment or a "frozen bee removal" exercise, repeatedly.
My fax machine has been on the fritz because it was used to try to send a GI Joe to another dimension (I was asked later "Would it have worked better if we'd used a cover sheet?").
I had a client ask me, "Is everything ok?" after my youngest hollered at me while I was on the phone with that client, "No one is on fire or bleeding from the head, but it is an emergency!" (it was, by the way, so not an emergency).
So, yes, my productivity has changed.
But on the other hand, my young officemates are a lot of fun.
They do need a lot more help wiping than my old officemates did, though.
Laugh Out Loud!
-gina
Anyone little "helping" you get a lot done? I'm looking forward to hearing all about it!   Shoot me a comment with all the details.  No glitter necessary!