Did you know there are 53 watermelons in that giant, super-sturdy cardboard bin at Costco? Did you know if your 5 year old aims carefully and hits the giant super-sturdy cardboard bin full of watermelons with the corner of the pretty-big, apparently-even-sturdier-than-the-cardboard-bin shopping cart, the giant, super-sturdy cardboard bin will magically split open?
Did you know when the bin splits open 48 of the 53 watermelons will make a run for it? Did you know the watermelons will quickly scatter in all directions like children do when you announce it's time to clean out the garage?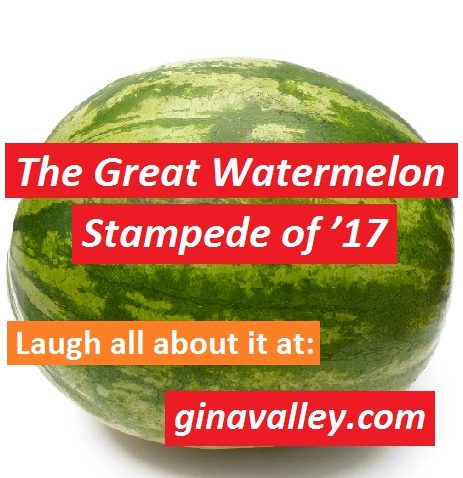 Did you know your 14 year old will look at the 8 watermelons still remaining in the not-as-sturdy-as-you-thought cardboard bin and remark to you, "I guess those guys have a case of the L.A.Z.Y., huh, mom?"? Did you know your kids will remember, right in the middle of any watermelon-based, embarrassing, public fiasco, you told them they had a case of the L.A.Z.Y. three days ago, but will not remember you told them to keep an eye on their 5 year old brother three minutes ago?
Did you know your kids will ask why their 5 year old brother needs watching anyway, since "We're in Costco. What could he possibly break?"? Did you know your kids could make you roll your eyes so hard you'd nearly do a backflip? Did you know one 5 year old could cause a watermelon stampede in the two minutes it takes you to dash down the aisle to grab a 5lb bag of shredded cheese?
Did you know some watermelons are in such great shape they can roll nearly all the way to the registers in the front of Costco before they are tackled and retrieved by a 5 year old or tripped over by his dad? Did you know there is no box to check on the form at the urgent care center to indicate your husband sustained a hip injury due to a watermelon accident?
Did you know people will look at you like you're crazy when you squeeze between them in hot pursuit of one of the large, green, surprisingly-quick fruits, hollering, "Stop that watermelon!"? Did you know, just like during pursuits in a movie, people will stare and do nothing to impede the escape of your quarry, or any of his 47 friends?
Did you know it's very hard to pretend you don't know the 5 year old who caused The Great Watermelon Stampede of '17 when he keeps following you around the store, calling you "Mommy", and asking "Did you see how far that big one rolled?"?
Did you know, while you are on a search-and-rescue mission for AWOL watermelons on the toilet paper aisle, your 15 year old will remind you he caused The Bicycle Display Tsunami of '07 and his sister caused The Coffee Grinder Explosion of '12 in that very same Costco?
Did you know they really should be more careful about who they let into that store?
Laugh all about it!
-gina
Any shopping avalanches in your life lately? I'm looking forward to hearing all about it.
Photo courtesy of Dreamstime.com – Used with permission.