Top 10 Ways I'm Too Wimpy For The Military
by Gina Valley
I have the utmost respect for those who have and do serve in our military.  They and their families make tremendous sacrifices to keep me and my family secure.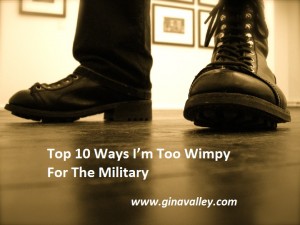 I appreciate their service so much, especially since I could never do it.
Top 10 Ways I'm Too Wimpy For The Military
#10.  I can't have the different foods on my plate touch.  If the
mash potatoes get on my cucumber slices, we'll need to call in a HazMat team to deal with that guck.
#9.  I eat chips with chopsticks.  I don't often eat chips, but when I do, I use chopsticks.  I can't stand that greasy feeling on my hand.  I don't skip the fried chicken for health.  I pass over it because thinking about its grease getting on my hands gives me the shudders.
#8.  I have to have a variety of shoes.  I love combat boots as much as the next girl, but sometimes, it's just not a "black boot" kind of day.  What if I drove the tank into a ditch and needed something to lift my spirits?  Running down to the PX to pick up yet another pair of black combat boots just isn't going to do it for me.  A girl needs choices.  A girl needs options.  A girl needs stilettos.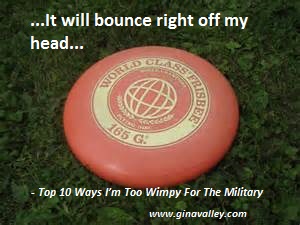 #7.  I have terrible depth perception.  Throw a Frisbee at me and it will bounce right off my head.  And, that's if visibility conditions are optimal.  Make it dusk or windy or have a squirrel dash by and I probably won't see you or the Frisbee at all.  "How far away is the enemy?"  "I don't know. 100 yards? 10 feet? I'm not sure.  He does seem to be getting larger, so I assume he's getting closer." Yeah, that'd go over well.
#6.  I can't remember what acronyms mean.  I even had to look up how to spell "acronym."  Civilians start saying TBH, or YOLO, or WTH, and my eyes glaze over.   To think that AAA, RSS, HALO, and CASEX (I'll wait here while you look that one up) all have totally different meanings in the military and civilian worlds ensures I would never be able to break through the letter language barrier (I'm still not sure if MRE is "meals – ready to eat" or "mess – refusing to exit," but I don't like the sound of it either way.  Something tells me that presentation, which Martha and Oprah both say is really the most important part of a meal, is somewhat lacking).
#5.  I don't like being screamed at in the morning.  Although each of my children has taken a turn helping me to train in this area for years, I still don't like it or respond well to it.  When faced with someone yelling at me, especially early in the morning, I tend to get a little Hulk-like, and I don't mean in the good way, either.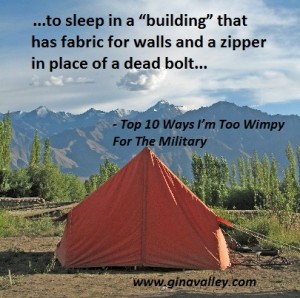 #4.  I hate camping.  I have camped. I'm sure I will camp again (I have children.  I think I'm legally obligated to sleep next to them outside in the dirt at least a minimum number of times).  But, I hate camping.  We have buildings and plumbing and washing machines now.  I don't want to roast MRE's over a fire (you see what I did there?) or to sleep in a "building" that has fabric for walls and a zipper in place of a dead bolt.  Isn't this why God invented hotels with room service?
#3.  I'm not good at the wait around thing.  Just waiting 10 minutes in the carpool lane at my kids' school is nearly enough to send me off of the deep end, and I've got a cell phone, laptop, and book to keep me busy.  I can only imagine how crazy I'd go hunkered down in an APC with 12 of my closest friends, waiting for days for some bad guy who may or may not happen into our area.  I'd flip out.
#2.  My room is never clean and organized.  Military corners on my bed?  I don't even make my bed.  I do make an attempt when my mother is coming to visit, but it usually looks worse after I'm done than before I started.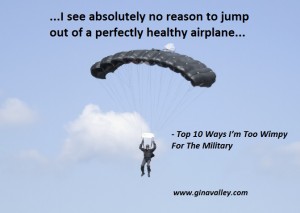 #1.  I don't jump out of airplanes.  I'm not a big fan of the "fly in a giant airplane" thing to begin with.  But, once I've talked myself into boarding it, I see absolutely no reason to jump out of a perfectly healthy airplane.  Having a giant sheet in a backpack on my back would only serve to give me something else to worry about.  Are those things tumble-dry or do they have to be hung on a line to air dry?  Heaven knows you don't want to shrink that sucker.
Bonus Reason:  Heat and humidity make my hair expand.  I'm not talking about a little endearing, pesky frizz or unruliness.  I am talking about life-of-its-own, ever expanding, animated, visible from space, no-helmet-could-contain expansion.  What good would it do for my peers to be dressed in camouflage, when my hair would signal to everyone on the planet, and on most other planets, exactly where we are?
I am so thankful for the men and women who serve in our military.
And, I am sure they are so thankful that I do not.
Laugh Out Loud!
-gina
Did you serve in the military?  What was your favorite part of serving?  What did you struggle with?  Do you have family members who served?  Are you wimpy like me?  Shoot me a comment.  I'm looking forward to hearing what you have to say.