Top 10 Ways To Eat EVERYTHING & Lose Weight
by Gina Valley
Tears well in my eyes as I realize this is one of just a few times a year when all humanity joins together with a common goal: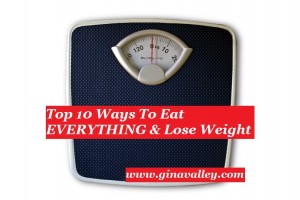 To lose half our body weight in the next 3 days.
As always, I'm here to support you, my dear readers.
I have a crack team of researchers working tirelessly throughout the year, gathering tips on how to absorb fewer calories from all those delectable delights that are assaulting us.
Here are 10 of my favorites:
Top 10 Ways To Eat Everything & Still Lose Weight
#10.  Have fast food.  Food eaten while driving on the freeway has no calories because calories cannot travel over 50 miles per hour.
#9.  Add nuts to everything.  Any food with nuts in it is considered a protein and therefore has calories equivalent to an equally sized piece of steamed, boneless, skinless chicken breast.  That's why fudge is so popular at holiday parties.
#8.  Stand up while you eat.  If you stand while eating, gravity pulls the calories down through your body, out through the soles your feet, and into the center of the earth.  That's why the earth weighs so much. Make sure you remain standing for several minutes after you finish eating to fully reap the benefits of this technique. I think we have all seen people who sat down too soon and ended up trapping all of their calories near their rear-end region.
#7.  Break your cookies.  Broken cookies have no calories. The breaks cause the calories to leak out. Brownie crumbs are calorie free for the same reason, as is any other favorite food chopped into small pieces.
#6.  Dine with a friend.  Socializing while eating removes half of the calories from your food. So, if you eat standing up while you socialize you will actually lose weight.
#5.  Walk it off.  Food consumed immediately before or after a walk doesn't count.  Walk to the refrigerator to get those cream puffs or saunter over to the buffet for more meatballs to ensure calorie-free dining.
#4.  Gnosh those leftovers.  All calories in a food are consumed the first time it's served, making leftovers calorie free.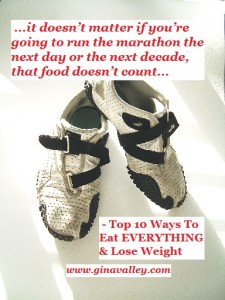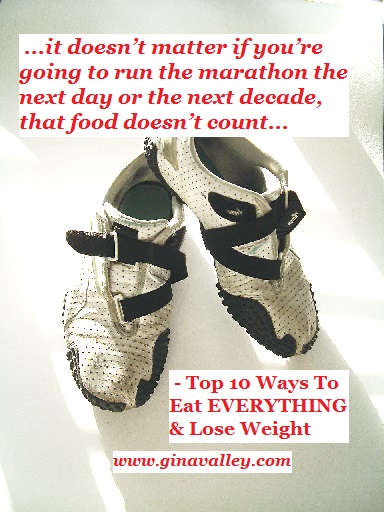 #3.  Plan to run a marathon.  Any food consumed in preparation for a marathon doesn't count. So, plan to run a marathon, because, as a dear reader once reminded me, it doesn't matter if you're going to run the marathon the next day or the next decade, that food doesn't count.
#2.  Eat kids' stuff.  Food prepared or decorated by children has no calories because the kids consumed all of the calories while licking food off of their fingers during the preparation phase.
#1.  Add something green.  A chemical reaction occurs between green stuff and fatty foods that dissolves all calories.  So, doubling up the lettuce on your bacon double cheeseburger or ham and cheese on rye removes the calories. Green sprinkles on your cupcake make it calorie-free, as the green foil wrapper does for Hershey's chocolate kisses.
If we all work together, someday, we can have a world that is stretchy pants free.
Laugh Out Loud!
-gina
For more food fun click on over to my No Stretchy Pants Necessary! – How To Eat Everything This Holiday Season AND Lose Weight post.  As always, the extra clicks to get there count as cardio.
How do you win the calorie battle?  If you have anything I should add to my list, please share it.  Shoot me a comment.  I'm looking forward to hearing all about it.