Top 10 Signs My Brain Needs A Hard Reboot
by Gina Valley
Bear, our boy puppy, came into our bedroom and barked at me at 3:00AM this morning.  This might not have been quite so jarring had I not been up until 2:00AM waiting for my 17 year old to arrive home from Disneyland.
I can't sleep when my kids aren't home. Of course, if last night is any indication, I can't sleep when they are either.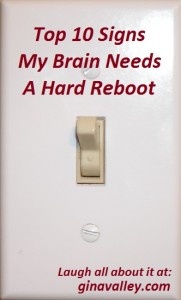 Apparently, Bear, our giant pup, was lonely.  He finally settled down about 4:00AM, at which point his sister, Ziva, jump onto our bed. I think she was there to complain about her litter mate being so loud. Then, she remembered how much she likes to bounce on our bed, and proceeded to work on her technique, on and off, for the next hour.
At 5:00AM, our youngest son proved he was right last night when he said that he could get up early, even though he was up 2 hours past his bedtime, by climbing onto our bed to chat.  "Since we're both awake, mom," he said, "can you play Colossus on the piano for me again? I forgot how it goes, and I have a test on it during band today."
I explained to my young son that, no, I would not play the song right then.
It was 5:00AM. We'd already had both barking and bouncing dogs. If I started pounding on the piano, I was sure that not only would all of his brothers and sisters turn into zombies, but that our neighbors would likely storm our house with pitchforks and torches.
I did not explain to him that I also could not play the piece right then. My lack of sleep was making it nearly impossible for me to get both of my eyes to stay open at the same time. There was no way I was going to be able to coordinate 2 hands along with my eyes to produce the song written on the page.
I tried humming Colossus for him, but it came out sounding like Oh, Come, All Ye Faithful.
A few minutes later he was blasting Colossus on our TV, having accessed the internet through the Xbox, and I was pretty sure I could hear our neighbors groaning.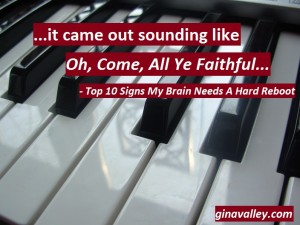 I finally got to sleep for about an hour before I had to get up to get my pack moving for school. But, an hour just wasn't enough sleep to let my body, much less my brain, reset.
I had tossed the bowls my kids used for breakfast into the trash can, and loaded the empty cereal box into our dishwasher before I realized what I was doing.  Of course, that's not the only telltale sign that my brain is exhausted, and needs a hard reboot.
Top 10 Signs My Brain Needs A Hard Reboot
#10.  I was yelling at my children to hurry or they'll be late to school even though they'd already left for school.
#9.  I keep catching myself typing with spaces between syllables, instead of between the words.
#8.  I just spelled "between" wrong. Three times.
#7.  I also spelled "syllables" wrong. Many, many times.
#6.  I was yelling at the dog to come downstairs. Turns out, he was sitting on my feet, and I was downstairs at the time. I think the dog rolled his eyes at me.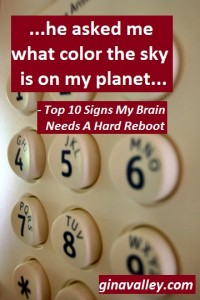 #5.  I have been seriously considering using a fork to stab the guy whose truck keeps making that stupid back up beeping noise I've been hearing on and off all morning. Make up your mind. Park your stupid truck, and get away from it. Some of us have had no sleep.
#4.  I was completely immobilized while trying to put on my bathrobe because a sleeve was inside out.  This is why it's important to have 911 on speed dial.
#3.  I keep needing to Google simple facts, and then forgetting what I was gonna Google before I can open Google.
#2.  I asked a client, who I know lives less than an hour away from me, what time it is where he lives. To his credit, he immediately asked me what color the sky is on my planet.
#1.  I just now, an hour after she left, realized why I liked the black jacket my 16 year old daughter was wearing when she left for school.  Because it's mine.
Is it nap o'clock yet?
Laugh Out Loud!
-gina
How can you tell when your brain needs a hard reboot?  Have you done anything goofy because you were tired?  Shoot me a comment.  I'm looking forward to hearing all about it.