Top 10 Reasons You Can't Go To Work On Post-Super Bowl Monday
by Gina Valley
Super Bowl Sunday is fun and exciting.  It's full of cheering and eating and drinking.
Super Bowl Monday is not.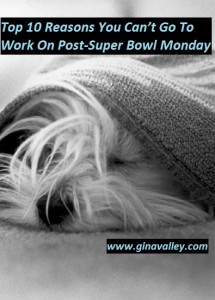 In fact the day after the Super Bowl is really Not So Super Monday.  All of that reveling and lack of sleep come back to haunt us, or at least make our heads hurt like heck.  It's not a fun day.
The best way to celebrate Not So Super Monday is to pull the covers back over your head and sleep all day in the dark.  I don't know about you, but I have a lot of trouble doing that at my desk.
So, skipping work on Not So Super Monday is an attractive idea.  Judging by the more than 7 million people who missed work the day after the Super Bowl last year, I'm the not only one who thinks so.
Perhaps, you'd like to join the crowd celebrating Not So Super Monday in the orthodox stay-home-and-sleep-all-day way, but, with the commonness of the call in sick on Not So Super Monday phenomenon, you know you need a really good excuse.
No problem.  I've got your back.  I'm a giver like that.
Top 10 Reasons You Can't Go To Work On Not So Super Monday:
#10. Someone unplugged your crockpot, and you're still waiting for the meatballs to finish cooking.
#9.  You're still trying to explain to your brother-in-law why XLVIII means 48.
#8.  You tried to gel your hair to stand up like Bruno Mars' did at half time, and the fire department has declared you a fire hazard and won't let you to go out in public.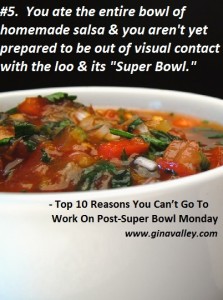 #7.  You are rechecking your computations to be sure that the 50 million cases of beer supposedly consumed in the US on Super Bowl Sunday does in fact equal more than 5 bottles per adult, and wondering if you were supposed to have 10 since your cousin didn't have any.
#6.  You have to take your granny to the chiropractor because she threw her back out when she was gawking at the "boys in them thar tight, stretchy pants!" Again.
#5.  You ate the entire bowl of your neighbor's homemade salsa, and you are not yet prepared to be out of visual contact with the loo and its "Super Bowl."
#4. The "Why is it called football, when they don't use their feet?" discussion with your know-it-all cousin from Caracas turned a bit physical after you screamed, "How's this for using my foot?!?!" And, long story short, you agreed to drive your cousin's pizza delivery route for him until he can comfortably sit down again.
#3.  You're still crying because of that Budweiser "A Hero's Welcome" commercial, and welcoming Lt. Chuck Nadd home.
#2.  All those flashing lights at halftime hypnotized you, and every time someone says "football" you cluck like a chicken, so you're going to be in therapy all day.
#1.  You pulled a hamstring diving for the last hot wing, and you can't get out of your recliner.
Let me know if you need a note.
Laugh Out Loud!
-gina
Did you Super Bowl it this week?  Did you have a favorite commercial?  What was your favorite snack?  Or, did you do something else you enjoyed this weekend?  Shoot me a comment. I'm looking forward to hearing all about it.
Photos courtesy of 
Stock.xchng
 – Used with permission