Top 10 Reasons I Have To Buy More Candy…Again
by Gina Valley
We need candy, and we have no candy.
It's not like on those days where I want to scream, "I need some candy or I'm going to totally freak out!"  Today, we need it to hand out to the throngs of neighborhood children who will come to our door begging for it.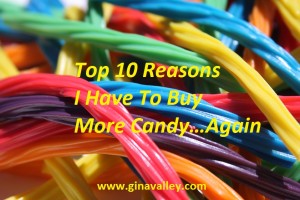 It's really those throngs of children's fault we don't have any candy.  You see, by "throngs of children" I mean the 6 to 15 children who will knock on our door.  One year we only had 3.  Our neighborhood is not exactly a bastion of Trick or Treat activity.  Even our kids Trick or Treat in a different neighborhood, where the houses are closer together, and there are lots of children.
So, since we know we'll have few partakers, we know there'll be lots of candy left.   Since we know we'll have lots left, I buy the kind we really like (as if there's some candy we don't like!) (Well, no one but The Professor likes licorice, but I don't think that's really candy.  It tastes like evil).
And, since I buy the kind we really like and we know there will be extra, we tend to eat a bit, in advance, just to be sure it's good.  We're really watching out for the children.
But, our tendency to run quality-control taste-testing on the sugary goodness isn't the only reason I'm heading to the store for candy again, for the, I kid you not, sixth time this year (that's a record for us).
We have a few other candy consumption issues.
Top 10 Reasons I Have To Buy More Candy…Again
#10.  Because when I said to my kids that they could each have 3 pieces of candy while I was at an evening meeting, they heard "have all 3 pounds."
#9.  Because when I told my 12 year old he could bring some candy to school for his friends, he neglected to mention that everyone in the whole 6th grade is his friend.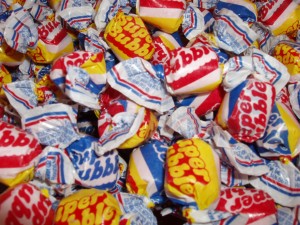 #8.  Because I've cut off my 17 year old's Oreo supply, so he's mainlining Rolos (he was up to 2 packs of those yummy cookies a day) (I wish I had his metabolism)(I don't think I even have a metabolism).
#7.  Because my eldest daughter had that very special visitor last week and no one was feeling brave enough to come between her and the bag of Snicker bars.
#6.  Because our boy puppy can reach the center of the dining room table, can take the heavy glass lid off of the pumpkin-shaped candy canister, and can (and did) inhale all of the candy there in (wrappers included) before you can finish yelling, "No, Bear! Get down!" (He's big, he's goofy, but, man alive, is he fast!).
#5.  Because when you're helping your child write a report about the political situation in middle and eastern Europe during the 1790's and it's after 11PM, keeping both of your mouths busy chewing caramels helps to preserve your relationship.
#4.  Because our girl puppy likes to be chased and thought it was great fun to grab the bag of Twix while it was still in the grocery bag, run around the backyard in the rain, and shake it until it exploded like a piñata.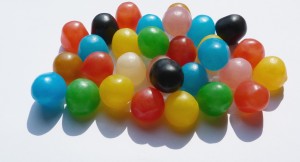 #3.  Because some days my kids drive me nuts, and a mini Hershey's with almonds (or 6 or 16) is the only thing keeping me from stuffing them into one of those If It Fits, It Ships Boxes and shipping them to Timbuktu.
#2.  Because I really wasn't as specific as I should have been when we were running late and I said to "Pack something you can pack quickly in your lunch, because you're going to miss your ride!" to my kids.
#1.  Because the walk from the grocery store to the car is a lot longer than you'd think. And, even if you didn't need the nourishment to survive that, you need it to keep up your strength up for the drive home, which can last an eternity (I'm rounding up, slightly, from 10 minutes).
I'm just hoping the candy angels are smiling on me, and there's still some good stuff left at the store.  I don't want to be that lady who hands out the reject candy.
Or gets stuck eating it.
Laugh Out Loud!
-gina
Do you buy your candy ahead of time and run the risk of consuming it?  Or, do you wait until the last minute and run the risk of getting stuck with the reject candy?  Are you dressing up for Halloween this year?  How about your kids?  Shoot me a comment.  I'm looking forward to hearing all about it.