They say:  "Pets make you live longer."
I say:  "It just feels that way."
We have 2 dogs, Bear and Ziva. They're 1 ½ years old, brother and sister from the same litter of Labrador puppies. But, that's where their similarity ends.
Bear is blonde, stout, and so laid back I sometimes hold a mirror under his nose to make sure he's still breathing. His favorite things to do are to sleep, and to stand on our dining room table, while it creaks and groans under his 102 pounds.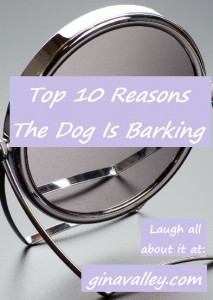 Ziva is sleek and covered in shiny black fur. She is never still unless she's sleeping. Her favorite thing to do is to wake up Bear, and to goad him into chasing her.
Until this week.
Ziva has a new favorite thing to do now.
She likes to stand right next to me, and bark.
Over and over and over.
This is not her cute little play-with-me puppy bark. This is not the huffing noise she uses to get my attention when she wants breakfast and it's not forthcoming.
No, this ear-splitter is propelled out of my furry friend by all 90 pounds of her muscle, and shakes the windows and nearly knocks me over.
I'm sure ours is not the only canine with lots of loud to say. Perhaps your furry friend has a similar habit. Ever wonder what all the barking's about? I've got you covered.
Top 10 Reasons The Dog Is Barking
#10.  She wants to freak you out while you're home alone
#9.  The cheesecake she snarfed down while you drove the kids to school is fighting back, and she needs to go out to make a deposit or she will make her deposit on the rug
#8.  She already made her deposit on the rug, and you're about to wreck all of her hard work by stepping in it.
#7.  She ate her carrot and her brother fell asleep on top of his carrot and she wants you to take it from him and to give it to her.
#6.  She saw a raccoon an hour ago, but you weren't home so she's telling you about it now.
#5.  There is more cheesecake in the refrigerator.
#4.  She does not observe Daylight Savings Time, and it's time to get up.
#3.  The hamster is looking at her.
#2.  You closed the bathroom door, and she misses you.
#1.  She just likes to hear herself bark.
Come to think of it, my kids holler at me about most of these, too.
Laugh Out Loud!
-gina
Do your furry friends holler at you? Do you speak their language? Shoot me a comment. I'm looking forward to hearing all about it.
Photo courtesy of Stock.xchng – Used with permission