Top 10 Vital Preps Before My Kids Start Summer Break
by Gina Valley
In a couple weeks, I'll be under full time siege.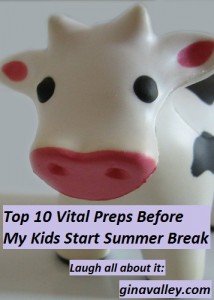 That's right.
My kids will be on summer break.
I love having them home. I love getting to hang out with them. I love not having to mess with homework.
But.
A few issues have come up in the past during the summer occupation, so I know I need to be proactive and take vital steps before my garrison of gigglers ends its daily constitution in the halls of education.
Top 10 Vital Preps Before My Kids Start Summer Break
#10.  Round up a dairy cow – On a hot summer day 6 gallons of milk is easily inhaled by my kids. When their friends have joined our circus we need a keg of the white stuff daily. I figure having our own cow has got to be cheaper than buying jugs by the pallet full at Costco.
#9.  Get a HazMat suit – And, it needs to include asbestos gloves and a breathing apparatus. I don't know how bathing suits and towels used in a chlorinated pool turn into alien life forms so quickly, but they do.  It's like my off spring drop their bathing suits and towels off into a pile, and the fabric springs into an instant mildewy mess.
#8.  Remove the doors from the refrigerator & freezer – They aren't shut once the entire summer any way. At least this way there'll be fewer heads and fingers slammed in them. It's worth the perpetually melted ice cream if it saves me even one trip to the emergency room.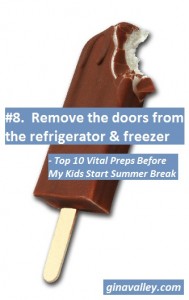 #7.Hook the power car washer onto the hose to shower the kids – When it's light until well past a decent bedtime, no one wants to come inside, much less do so to bathe.   This way I can do a quick turbo wash as they run by in the midst of a game of tag. I might get the wax cylinder to, so they'll be extra shiny and water repellant.
#6.  Stock up on swim goggles – I'll start with about 50 pairs. That should almost last us through the first week. Where do all the goggles disappear to? If we ever move I think we're going to find a hidden room full of swim goggles. And, how come my kids consider diving into mud puddles totally hygienic, but need protection from the clean, bacteria-free water in a pool?
#5.  Purchase 3 identical pairs of flip flops for each member of my pack – That way they should be able to come up with at least one pair of shoes when required to.  It's ok to wear flip flops to a cousin's black tie wedding as long as they're sparkly, right?
#4.  Hide the snow parkas – Why does someone always think it'd be cool to play Arctic Explorer in the mid-July heat?  And, why do they think rolling around in a giant mud puddle in their dry clean only parkas simulates the arctic? I think the school district is should be held responsible for that dry cleaning bill.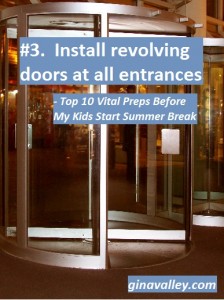 #3.  Install revolving doors at all entrances – It's our only hope for having even a semi good chance at a closed door. It'd be nice if we could at least keep the dumber mosquitos and June bugs out.
#2.  Procure a case of MRE's – Or, maybe several cases. Those nasty nutrition packs from the military surplus store are "Meals Ready To Eat" (also known as ""Meals Refusing To Exit," according to some of my favorite soldiers). Hopefully, they'll be better than the nothing I've prepared on those many nights when I forget to make dinner because it's light until nearly 9:30pm. Who thinks about dinner while it's still light?
#1.  Buy snow boots for everyone – This is the only time of year stores in SoCal have them in stock. Gotta get 'em while it's hot.
Now that I think about it, I should probably stop by Costco for a barrel of sunscreen, even though I know my kids will refuse to use it all summer.
I wonder if they make a sunscreen cartridge for the power car washer.
Laugh Out Loud!
-gina
How do you prep for the summer? Did you miss school during the summer when you were a kid?  Shoot me a comment. You're here anyway, and I'd love to hear what you have to say.