Top 10 Signs This Picnic Is NOT Gonna End Well
by Gina Valley
There's a whole lot of picnicking going on this weekend.
I don't know about you, but sometimes our forays into the great outdoors are less than totally successful.
It's usually about halfway through one of these great meetings of the lunchmeats meetups that I realize we're heading for trouble.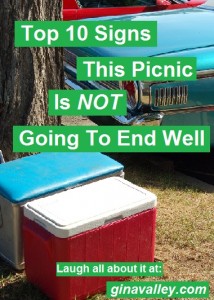 Or, at least to the Urgent Care Center.
Here's some clues to tip you off that there's trouble ahead with an alfresco soirée (you would not believe how long it took me to get the spelling correct on "soirée").
Top 10 Signs This Picnic Isn't Gonna End Well
#10.  You parked so far away that you passed 3 county markers and the state line walking from your car to the picnic area.
#9.  You hear someone yell, "Hey look, Cousin Bubba brought his homemade fireworks!"
#8.  The potato salad has been in the sun so long it's developed a pulse.
#7.  Cousin Beatrice has used the word "pus" four times, and she hasn't even started to talk about when they had to lance that giant boil on her leg. Yet.
#6.  When you try to use the weather app on your phone to see how hot it is, Siri says. "Help me! I'm melting! I'm melting!!!"
#5.  Uncle Renfro is trying to play volleyball with a watermelon.  Again.
#4.  Just as you're frantically feeling your pockets in search of your keys, your 5 year old son asks you, "Did you shut the trunk with your keys in there so they wouldn't get lost?"
#3.  The ants have already carried off 1 cake, half the sandwiches, and Great Grandma Yaya, and it's not even noon yet.
#2.  The Emergency Room called and asked what time the "friendly game of softball" will be starting this year, so they'll know what time they should have the cast room open.
#1.  There're more seagulls lined up in the trees around the food table than in the climax seen in The Birds, and you forgot your umbrella.
Don't worry.  There's probably a drive-thru burger place right next to the ER.
Laugh Out Loud!
-gina
Do you like picnics? Are you a sandwich-er or a grill-er? Did you know how to spell "soirée"?  How bad were the bugs at your last picnic?  Shoot me a comment. I'm looking forward to hearing all about it.