He Used MY Toothbrush!!!
by Gina Valley
He used my toothbrush!
How disgusting is that?
And, it didn't even seem to bother him. He actually seemed to think it was funny.
It was not funny.
There is nothing funny about someone else using your toothbrush.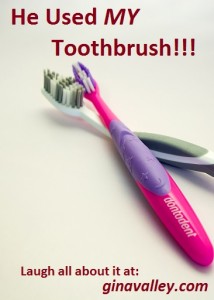 Especially, when it's my toothbrush.
I know what some people think. We've made babies together, clearly this is not the first "mixing of our essences." That's true. Not even the first time today.
And, I have to admit my tongue has touched his teeth before. Yet, somehow, the idea of using my toothbrush as a go between from my mouth to his is totally unacceptable.
He chuckled as he told me that, after he'd finished brushing his teeth, he realized he'd grabbed and used the wrong toothbrush. Mine, inadvertently, instead of his.
I say there are no accidents.
Besides, my toothbrush is pink and his is dark blue. How do you mix those up? I wonder what Dr. Phil would say about that?
I didn't want to hurt his feelings by totally freaking out, much as my OCD was screaming at me to do just that.  I couldn't very well start scrubbing my toothbrush with bleach without insulting him. So, I decided I'd "accidentally" knock my toothbrush into the toilet, thereby making its replacement both mandatory and blameless.
While I smoothed moisturizer onto my skin with my left hand, I used my pinky and ring finger of my right hand to slowly inch the contaminated oral cleaning rod toward the toilet.
Just touching it gave me the heebie jeebies. How could I touch something dripping with someone else's saliva?
My tooth brush was an agent of filth.
My toothbrush was a speed rail for germs.
My toothbrush was bone dry.
How was it possible for my toothbrush to be quite without humidity when he had used it just minutes before?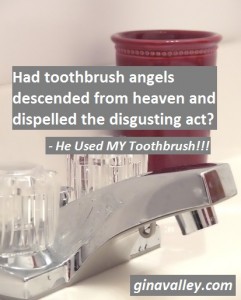 My eyes darted around the bathroom, searching for an answer, and fell on his dark blue toothbrush, lying on the counter, next to his toothbrush holder (he never stands it up in its holder. Drives me crazy).
Had he used his own toothbrush, but thought it was mine? Could someone really mix up pink-in-a-holder with blue-on-the-counter? Was it time to start looking for "The Home"?
At the risk of barfing a little, I decided to check his toothbrush for signs of recent usage. His, too, was bone dry.
Was this a miracle? Had toothbrush angels descended from heaven and dispelled the disgusting act?!?!
I stared at our bathroom counter, realizing that even the toothbrush angels couldn't reverse this travesty of personal hygiene. I might have thrown up a little in my mouth, just thinking about what had happened.
Yes, he had used my toothbrush, but not my pink one from my toothbrush holder.  He'd used the dark green one I keep on the counter next to the sink.
The one I use to clean the gunk out from underneath my fingernails!!!
Maybe there is something funny about someone else using your toothbrush, after all.
Laugh Out Loud!
-gina
What would you do if someone used your toothbrush?  Is the toothbrush the holy grail of hygiene? I'm looking forward to hearing what you think, so shoot me a comment.