Top 10 Reasons My Teen Freaks When She Has To Empty The Vacuum …Gina's Favorites
by Gina Valley
I'm taking this week off to deal with some family issues, so I've lined up some of my favorite posts to keep you giggling. Laugh along with this 
Gina's Favorites
 post.
Top 10 Reasons My Teen Freaks Out When She Has To Empty The Vacuum Cleaner
It's a terrible burden.
In our house, before you vacuum, you have to empty the vacuum cleaner canister. Every time.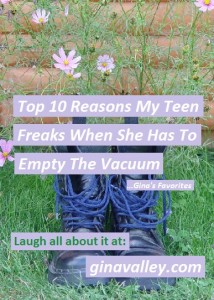 We tried using the "empty it if you find it full" rule, but, even when it was overflowing and dirt was flying out, no one ever thought it was full.  So, we now have the "always empty it before you use it" rule.
My teenage daughter just went out to dump the vacuum cleaner canister contents into the trash can.  She was so happy to do it.  And, by "so happy to do it" I, of course, mean "not happy at all."  I think I can still hear her mumbling about it.
It's such a quick, simple task, but she pitches a fit every time she has to do it. "Why?" you might wonder. I'm so glad you asked.
Top 10 Reasons My Teen Freaks Out When She Has To Empty The Vacuum Cleaner
#10.  All those spiders we've been sucking up all week  – they're in there & they're mad.
#9.  One of her friends might see her and know that she has a family (talk about embarrassing!).
#8.  It's windy outside and she just finally got her hair to, like, work.
#7.  She's texting with her friend, Milly, who just got dumped by her boyfriend, who BTdubb's is such a creeper, and she can't just keep her waiting.
#6.  Our weird neighbor is standing on his roof with his leaf blower cursing at the leaves up there while he blasts them. Again.
#5.  She's wearing her brand new combat boots, and doesn't want them to get anything on them that looks even the least bit combat-like.
#4.  The raccoons in our trees throw stuff at you when you go into our trash can area (they really do. And, I think they're laughing while they do it).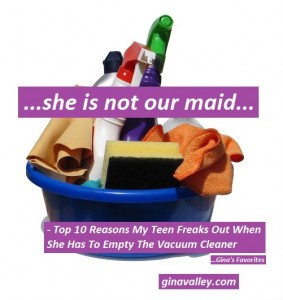 #3.  She is not our maid (we knew that, being as we don't have a maid [like anyone would take that job!], but she made a point of telling us, just in case we were a bit confused on that point, I guess. Teenagers are thoughtful like that).
#2.  She always has to empty the vacuum cleaner canister (in a related note, she also pointed out that she is the only one who ever does anything around here) (in another related note, I'm laughing, I might be rolling my eyes, and I emptied the vacuum canister yesterday. And, picked up the dishes she left in the bathroom) (that's right, the bathroom).
#1.  It's so disgusting! (Just wait until next week. She's on bathroom cleaning duty).
Teens! Gotta love 'em!
Laugh Out Loud!
-gina
Do you have a chore you particularly hate?  Is there a chore your family hates?  Shoot me a comment.  I'm looking forward to hearing all about it.
Photos courtesy of 
Stock.xchng
 – Used with permission