So, I did the AtoZ April Challenge thing.
Even finished a day early.
Writing every day isn't a problem for me.  I already do that.  Usually the majority of the day.  I publish a blog post every day, too, so that part of the challenge wasn't the challenge for me.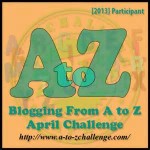 For me it was remembering the flipping alphabet.