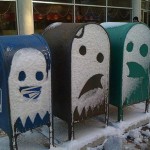 Friday Funnies – Frosty Edition
by Gina Valley
It's Friday.
End of the week.
Start of the weekend.
This week the cold has set in deep, particularly in the north and east. Granted, it's been warm and sunny here in SoCal, but I'm still sympathetic to the plight of you all who are shivering.
Nothing warms the heart like a good laugh,