What's MY Name Again?…Gina's Favorites
by Gina Valley
My brain is extra befuddled and muddled this week. I'm hoping that's a temporary side-effect of the extra stress generated by all the back-to-school madness, and not my new normal. Time will tell, I suppose.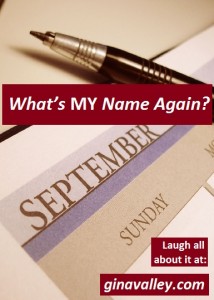 Either way, I figure my What's MY Name Again? post is perfect for Throwback Day this week.
Laugh along with this Gina's Favorites post.