Toilet Paper Deficiency Alarm #25daysofwhatIwantforChristmas
by Gina Valley
I want a Toilet Paper Deficiency Alarm for Christmas. It been since before most of my children made their grand entrance into my life that I last waltzed into our bathroom, and was not greeted by a naked tube in the toilet paper dispenser.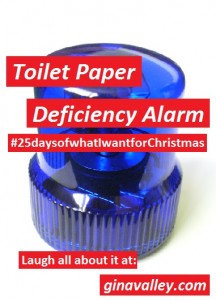 Apparently, I'm the only member of our household who can actually see when the toilet paper tube is empty.