Thank You For Stowing Your Ta Ta's
by Gina Valley
It's that time of year.
Chocolate's in the air, pumpkin's in everything, and hoo hahs are on parade.
I hate to be a spoil sport, but if my kids are going to go door to door begging for candy, they are not going to do it dressed as hookers.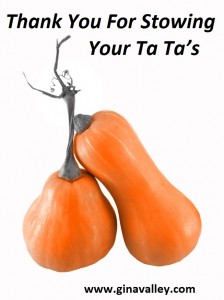 I don't understand the whole "dress like a ho no matter what you're dressing as" mentality.  Instead of "The Halloween Shoppe" they ought to call it "The TaTa TaDa."
If your child's costume (or yours!) is appropriate to wear standing at Hollywood and Vine,