Top 10 Reasons You Can't Erase THAT From The DVR
by Gina Valley
This weekend was supposed to be one of those pre-holiday-clean-the-house-from-top-to-bottom-so-friends-and-family-who-pop-in-for-holiday-visits-won't-think-we're-total-pigs weekends.  Well, big surprise – didn't happen.
So the weekend cleaning concept wouldn't be completely lost, I decided to tackle the most difficult cleaning job in our house – cleaning out the recordings on our DVR.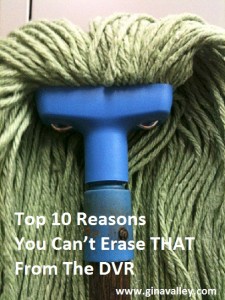 To the uninitiated,