Top 10 Signs It's Almost Christmas …Gina's Favorites
by Gina Valley
Laugh along with this timely Gina's Favorites post.
Top 10 Signs It's Beginning To Look A Lot Like Christmas
If you've interacted with anyone, on-line or IRL, recently, chances are that someone asked you, probably in an overly giddy fashion, "Are you ready for Christmas?!?!," likely followed by a giggle and a tee-hee.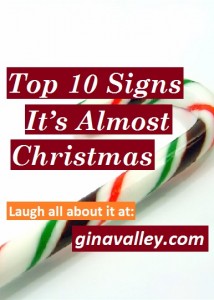 I want to bop those people on the head with one of those giant candy canes,