Why They Will NOT Let Me Run The UN
by Gina Valley
My 2 youngest decided to have a discussion on the way to their sister's basketball game last week.
It was a rather lengthy discussion. In fact, some (me, for instance) might say it was a marathon-bicker-fest or a non-stop-argument or a major-pain-in-the-neck-for-everyone-unlucky-enough-to-be-within-earshot.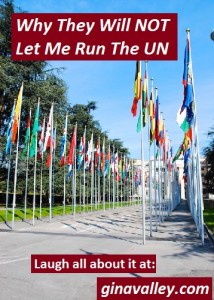 If I didn't know better I'd have sworn they'd somehow morphed into 2 little,