Every two years something magical happens in Dayton, Ohio.
Well, magical things might happen a lot more frequently than that in Dayton. For all I know, one of those cool new buildings downtown might be the home of a modern day Hogwarts. But, there's one magical thing I witness there every two years.
It's the Erma Bombeck Writers' Workshop. It's a writers' conference and it's a whole lot more.
I've been to many conferences for many different fields and this one is unique. Yes, it has the requisite courses and lectures and keynotes. It has vendors and banquets and cocktail parties. But, the EBWW has something else. It has heart.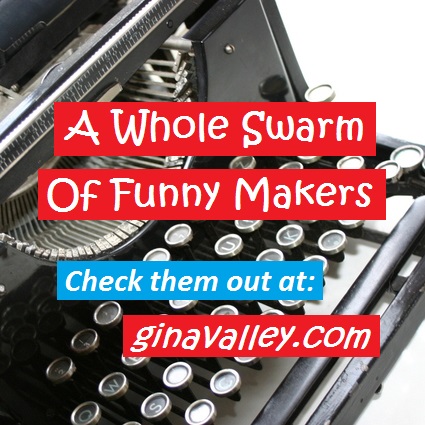 It's the only writers' conference, or any other conference for that matter, I've attended where the networking has a sense of camaraderie, the lectures are uplifting and encouraging, and there are no strangers, just friends ready to meet you.
I've made many friends among the colleagues I've spent time with at the EBWW. I'm looking forward to seeing old friends and meeting new ones this April at the 10th EBWW.
Below is a list of the websites of many present and past attendees. I've gathered this list to make it easier for everyone who is attending to view their colleagues' work. I'm sharing the list because it includes a huge array of writing topics and styles, and I think that's worth sharing with everyone.
I encourage you to visit them all. You might find another writer to add to your Must-Read list.
Be sure to tell them that Gina sent you!
Laugh Out Loud!
-gina
Websites of Attendees of EBWW (in the order in which they were submitted to me)
Lola Marguerita – Live by Surprise
Gina Valley – Gina Valley – The Glamorous Life of the Modern Day Soccer Mom
Lisa Packer – Notes From the Shallow End
Lisa Kanarek – Forgot to Tell You
Elaine Ambrose – Elaine Ambrose
Linda Maltz Wolff – Carpool Goddess – Adventures From Carpool To Empty Nest
Lisa Marlin – Lisa Marlin
Allia Zobal Nolan – Allia Writes
Janie Emaus – Janie Emaus
Marcia Kester Doyle – Menopausal Mother
Amanda Beth Hill – Hill + Pen
Becky Brown – Noodleroux
Sherry Stanfa-Stanley – Sherry Stanfa-Stanley
Sarah Honey – Thank you Honey – Where Every Day Is An Adventure
Lori Brudner Duff – Lori Duff Writes
Stacey Lowrey Gustafson – Are You Kidding Me?
Leah Vidal – Little Miss Wordy
Shannon Shelton Miller – Shannon Shelton Miller
Terry Sykes-Bradshaw – Terry Sykes-Bradshaw
Jo Salemink – Sandwich Mom on Wry
Linda M Au – Linda M.Au
Joanne Brokaw – Joanne Brokaw
Jill Brehm Enders – Jill Brehm Enders
Lou Clyde – Notes from a Nerdling
Christine Collins Cacciatore – The Life and Times of Poopwa Foley
Jackie Pick – Jackie Pick
Elizabeth Ryan Catalano – Zoe vs. the Universe
Keith Stewart – A Strong Man's Cup of Tea
Susan Willett – Life with Dogs and Cats
Julie Burton – Bug Bytes
Bonnie Jean Feldkamp – National Society of Newspaper Columnists
Bonnie Jean Feldkamp – Bonnie Jean Feldkamp, Author at Cincinnati Family Magazine
Bonnie Jean Feldkamp – Bonnie Jean Feldkamp
Sarah Hunt – Sarah Bricker Hunt
Sarah Hunt – Cincy Sarah
Maggie Millus – Barmy Bottom Hollow
Molly Stevens – Shallow Reflections – Wading through life (mostly) laughing
Lois Page Simenson – Alaskan Spark
Lee Gaitan – Lee Gaitan
Angie Klink – Angie Klink
Beth Pollak Meleski – My Bethisms
Amy Abbott – Amy Abbott Writes
Kelly McKenzie – Just TypiKel
Carol Michel – May Dreams Gardens
Risa Nye – Writer Risa Nye
Sheri Lyn Saretsky – Mothering, Marriage and Menopause
Kathy Eliscu – KathyEliscu.com
Ann Morrow – Ann Morrow – Writer, Humorist, Photographer
Dorothy Rosby – Dorothy Rosby
Fred Marion – Fred Marion
Michelle Poston Combs – Rubber Shoes In Hell
Teri Foltz – Out of Teri's Head
Kimberly Joyce Dalferes – Kim Dalferes
Kim Davis Reynolds – Kim's Crazy Life
Michelle Terry – Lipstick and Laundry
Jocelyn Jane Cox – The Home Tome
Ginger Claremohr – Ginger Claremohr – Author, Speaker & Columnist
Anne Bardsley – Anne Bardsley – Writer
Mary Levad Lovstad – Musings of My Inner Erma Bombeck – Farm Girl Cook'n
Vikki Claflin – Laugh Lines
Alison Moran – Token Female
Anne Parris – Midlife Boulevard – Travel, Fashion, Health, and Beauty for women over 50
Colleen Dilthey Thomas – Come On Colleen
Jennifer Gregory – The Runaway Mama
Shawn Henfling – Shawn Henfling
Peggy Hill – Hidden Hills Garden
Valentine J Brkich – Small-Town Dad
Julie Vick Harber – Julie Vick, Writer
Shannan Ball Younger – Between Us Parents
Amy M. Zlatic – Amy Zlatic, Writer and Editor
Liz Dubelman – VidLit
Tori Chickering O'Connell – V. C. Chickering – Nookietown
Carol Gasser Zollinger – The Circus Is Here
Betsy Bisberg Palmer – Such a Good Eater – Tales of an Ambivalent Baker
Nikki Shields – Where Are Your Pants?
Leslie Hutchings- Digressions in a Minor Key
Sara Neal Given – It's Like They Know Us
Tracy Lee Curtis – Tracy Lee Curtis – Humor Columnist
Laurie O'Connor Stephans – We B Late
Pam Hoerauf – Screaming Mimi
Donna Sword – Raising a Super Dog
Stephanie Mark Lewis – Once Upon Your Prime
Roxanne Jones – Boomer Haiku
Kaye Curren – Write That Thang
Lela Davidson – Lela Davidson – Story & Communications Coach
Laurette Hannon – Cracker Queen – Laurette Hannon – Southern Writer
Julie Osborne – Julie Osborne – Tales of Oz
Christine McCue – My Cape is on Backorder: Supermoms and other Fairy Tales
Jolyn Young – Desolate Ranch Wife
Chrissy Woj – Quirky Chrissy
Cindy Ratzlaff – Cindy Ratzlaff
Cindy Ratzlaff & Kathy Kinny – Queen of Your Own Life: Welcome to the Rest of Your Life
Roxanne Sicurello Chin – Not That Big A Deal
Maggie Downs – Maggie Ink
Leslie Handler – Leslie Goes Boom
Tracy Beckerman – Lost In Suburbia
Bryce Warden – Was that my out loud voice?
Renee Schafer Horton – Renee Schafer Horton
Brian Rutter – The Burb Man
Susanne Kerns – Susanne Kerns
Susanne Kerns – The Dusty Parachute
Randi Mazzella – Randi Mazzella
Karen Galatz – Muddling through Middle Age
Jennifer Belden – Mom On The Rocks
Tami Himmelfarb Wolf – Life on the Edge of my Comfort Zone
Tassie Kalas Haney – Tassie Write Now
Lynne Hensen Cobb – Lynne Cobb – Some Mid-Life Random Ramblings
Bess Kercher – MaeMucho
Be sure to check out these fun sites and to leave them some comment love!
Laugh Out Loud!
-gina
Did you find a new funny? Have you been to a conference for your profession? Anything funny happen? Did you enjoy it? Shoot me a comment. I'm looking forward to hearing all about it.
Photo courtesy of Freeimages.com – Used with permission.