Does This Sunscreen Raise Cholesterol?!?! …Gina's Favorites
by Gina Valley
Laugh along with this timely
Gina's Favorites
post.
Will This Sunscreen Raise My Cholesterol?
We've had 4 graduations this week in our family, and I'm just about graduation'd-out.
If there's one thing I've learned through all of the Pomp and Circumstances and endless motivational speeches, it's that I don't know how to put sunscreen on properly.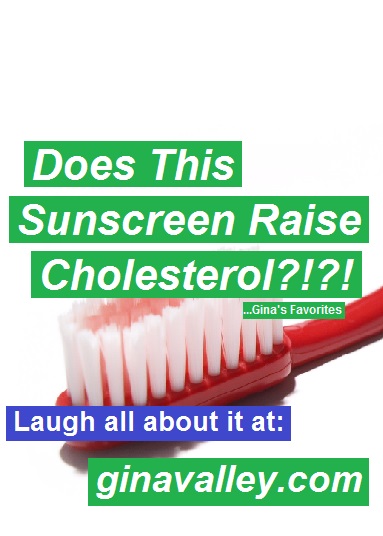 Remember those pink tablets we'd chew after we brushed our teeth when we were kids to see where we missed brushing? You know the ones. This hideous pink color would stick to your teeth where ever you hadn't properly attacked the plaque. Well, I have bizarre pink splotches all over me. I look like someone did a poor job of brushing me. Very poor!
I wear sunscreen every day. I'm not particularly interested in getting skin cancer, so I do what I can to try to prevent it. No matter what I have planned, even if I'm not planning to go anywhere, immediately after my shower, I put sunscreen on my face, neck, arms and hands. Every day. For the last couple decades.
You'd think I'd be good at it by now.
You'd be wrong.
Even when I apply extra sunscreen in anticipation of a particular UV-heavy day, like visiting the surface of the sun or attending a spring graduation ceremony (same thing, really) I still never get it right.
After a day in the sun, somehow, I always end up with a bright red stripe of sunburn right across the top of my forehead. I don't know why.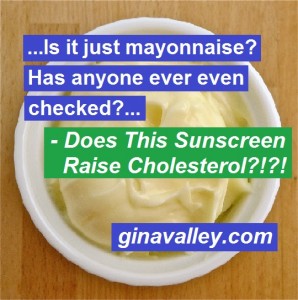 Maybe I don't realize how tall I am. Or, maybe the sunscreen makes my forehead grow while I'm applying it. I don't even know what's in that stuff. Is it some sort of forehead fertilizer? Is it just mayonnaise? Has anyone ever even checked?
Maybe I need a GPS to direct me while I'm applying it. "At your earliest convenience, turn around. You missed half of your forehead, you moron," it would tell me in its sort-of-British, totally-condescending accent.
At least this time I seem to have overcome my inability to find my own nose. Usually after a day at graduation or any other all day activity early in the "time for sun" season, I can outshine Rudolph with his nose so bright. I can guide sleighs, reindeer, or 18 wheelers through the densest fog, which, incidentally, must have come over my brain when I was trying to cover my nose with sunscreen.
How hard is this to get right? I mean really?
It's not rocket science. Heck, I've done that, and I never had trouble locating my nose while I did (well, maybe once, but we'd been playing Tetris for nearly 5 hours straight and it was kind of hard to focus my eyes or to blink at that point).
I think God gave me brown children because he knew I'd be sunscreen-impaired. Even when I remember to put it on my pack, and can catch them and pin them to do so, I always miss spots. And, by "spots" I mean a whole limb or face or something.
My pack is no help, either. I'll ask, "Did I put any on this arm yet?" and the answer is always, "I don't know."  To which I mentally say, "It is attached to you, isn't it? Shouldn't you know if someone just rubbed what could very well be coagulated salad dressing all over it?"
But, I don't say that out loud, because if I did, my precious progeny would answer, "Well, shouldn't you know what you rubbed on someone and where you rubbed it?"
Fortunately, my pack members don't burn, so my only partially marinating them doesn't seem to create much of a problem.
Besides, I'm pretty sure sunscreen causes high cholesterol anyway.
Laugh Out Loud!
-gina
Are you a skilled sunscreen apply-er?  How do you make sure you don't miss a spot?  How do you catch your kids to slather them up?  Shoot me a comment.  I'm looking forward to hearing all about it.
Thank you for reading and sharing my work on your with your friends and family.  I appreciate your support!
Photos courtesy of 
Stock.xchng
 – Used with permission.