STUPID Stuff I'm Thankful For
by Gina Valley
Maybe the reason I'm so bugged by those 30 Days of Thankfulness lists is that I don't have such a grandiose collection.
Don't get me wrong, I'm certainly thankful for the biggies: health, friends, family, and my Savior.
But, most of the time, when I hear myself offering up spontaneous thanks, it's for much less impressive stuff. Stuff that's less oh wow! and more oh duh!
You know, stupid stuff.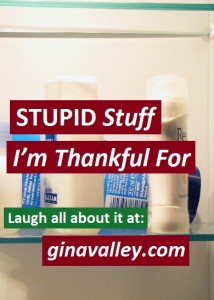 I'm thankful a cup of tea doesn't turn into Jello when I reheat it for the 47th time in one day, because I can't seem to remember to drink it during that 3 second period when it's between scorching hot and ice cold.
I'm thankful my thoughts are not broadcast to the world during my time in the morning carpool line at the middle school…or during the last PTA meeting.
I'm thankful it makes me smile when I look at a digital clock and it's 11:11.
I'm thankful for the rare occasion when the doorbell rings, and there isn't any AWOL underwear lying under our dining room table…or on it.
I'm thankful my daughter told me her friend's mom is more unreasonable about wanting her house clean than I am. If I'm going to be categorized as unreasonable it's nice to know I'm not the most unreasonable parent on the planet…yet.
I'm thankful our dogs cannot speak to me… or about me. It really would ruin our whole relationship.
I'm thankful I was on the phone with her, so she couldn't see the expression on my face, when my Great Aunt Celia told me she doesn't think deodorant is safe, has decided to stop wearing it, and wants me to check to see if she smells bad the next time I stop by
I'm thankful Amazon stocks 1876 natural, organic, safe deodorant products and will ship 780 of them in two days or less for free.
I'm thankful socks aren't foot dependent, as far as which to apply them to. Shoes give me more than enough trouble in that department.
I'm thankful my son told me the chicken I made for him to take to his Friendsgiving Dinner was so good his vegetarian friend ate a couple pieces.
And, if these made you smile, I'm thankful for that, too.
Laugh Out Loud!
-gina
Have you made a long list of your thankfulness-es? Or, do you keep it spontaneous?  What stupid stuff are you thankful for? Shoot me a comment. I'm looking thankfully forward to hearing all about it.
Photo courtesy of 
Stock.xchng
 – Used with permission