Stop Licking The Dog!!!…Gina's Favorites
by Gina Valley
I'm taking this week off to deal with some family issues, so I've lined up some of my favorite posts to keep you giggling. Laugh along with this 
Gina's Favorites
 post.
Stop Licking The Dog!!!
"Stop licking the dog."  Did I just say that?  Again?
They told me that after I had kids I'd never sleep again. I believed them, but for the wrong reasons.
I thought the baby would fuss. The toddler would call out. Nightmares, bathroom needs, and barking dogs would all work together to prevent any semblance of a good night's sleep during my parental years.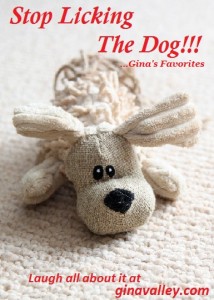 And, they do.
But, those disturbances are small potatoes compared to the true parental sleep depriver.
The words.
The sentences.
Those thoughts that somehow made sense at the time when they passed through my lips, but return like ghosts to haunt me in the night.
Did I really tell my daughter to "Stop eating if you're hungry," to "Try to be a better liar," and that "I don't care what the dog thinks, I'm turning the channel,"?
Did I imagine asking my son "Why are you wearing 9 pairs of underwear at the same time?" "Are all orange foods poisonous?" and "Why is it raining in our dining room?"
Was that me explaining to my own progeny that "Wearing a coat is not a punishment," and "Cheese is not worth screaming about,"?
Was I the one I heard telling my children "If you break a leg, you're grounded," "Wear something light, so the dog hair doesn't show," and "Putting the cookies on a plate does to make them homemade,"?
How come I can't get rid of the image of me explaining yet again to my 8 year old "Needing to wear shoes to school should not be a surprise every day,"?
Did I announce "A flip flop is not a plate," "Some people do not liked to be sniffed," and "Sandwiches are not allowed in the bathroom,"?
Was it me who asked "Which parts of your sister are glued together?" "Who dressed the vacuum cleaner?" and "Why is there a taco in your closet?"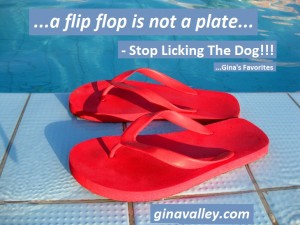 Could I have actually ordered my children to "Stop speaking English. You're American," to "Stop putting rocks in the refrigerator," and to "Stop making fun of your brother's cornea,"?
Why did I need to ask "How come someone stapled these waffles?", "Who woke up the frog?", and "Why does this bread taste like pencils?"?
Did I actually say "You can't waltz right now. We're late," "I don't care whose it is. Flush it," and "I'm sorry someone moved your dirt,"?
Yes, they were right when they told me I'd never get any sleep as a parent.
But, they didn't mention that it'd be because I had to tell someone to "Stop licking the dog!"
Three times.
In one day.
Laugh Out Loud!
-gina
Have you been startled by the nonsense that made sense at the time flowing out of your mouth? Have you received knowing looks and stares from nearby parents after blurting out a real gem?  Shoot me a comment.  I'm looking forward to hearing all about it.
Photos courtesy of 
Stock.xchng
 – Used with permission