Spray Away!!! …Gina's Favorites 
by Gina Valley
Laugh along with this timely 
Gina's Favorites
post.
Spray Away For The Holiday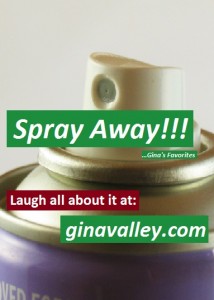 Remember when your pre-school kids brought home macaroni frames and sea shells magically transformed by gold spray paint?  Well, that still works.  A can or 2 or 30 of gold (or silver) spray paint  can transform your home, change your life, and have you totally ready for the holidays before lunch.
What, you might wonder, can one spray paint gold, besides macaroni frames and sea shells?
Well, the traditionalists will tell you to blast some pines cones to place in a large glass bowl for an elegant look.  That does look nice, but I say "Why stop there?"
Kitchen buried in crusty dishes?  Spray paint those suckers.  Now you have charger plates each with a custom, handmade 3-dimensional design.  Macy's will probably call you with an order for 1000 of them.
Mountain of laundry besieging your washing machine?  No problem.  Arrange the olfactory offenders into various sizes of conical piles.  Blast them with your can of magic gold-ness (this might require more than one coat), and you'll be left with an entire forest of handmade, fabric Christmas trees to distribute throughout your home and yard.  Talk about classy décor!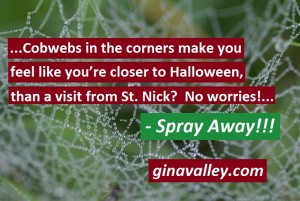 Got a lazy teen?  Or two?  Do you have to put a mirror under his nose to check for condensation just to be sure he hasn't passed on to that great messy bedroom in the sky, because he's been prone on the living room sofa for 22 hours?  Spray him! Don't worry, he'll likely sleep through the whole thing and Christmas and New Year's.  Your guests will be so impressed with how life-like the new sculpture in your living room is.
Cobwebs in the corners make you feel like you're closer to Halloween, than a visit from St. Nick?  No worries.  A light spraying, and you've turned those bug catchers into delicate gold garland.
Did your 3 year old stain the fancy dress your mother-in-law sent her before she'd even worn it?  Gold that thing up, and you'll take it from "stained" to "lamé -d."
Living room rug speckled with stains?  Spray paint a large circle over each one, for a festive, new flooring up date.  Or, for a totally new, easy to clean look, spray paint the whole carpet – wall-to-wall .  It'll  look holiday-delicious and you can hose away spills.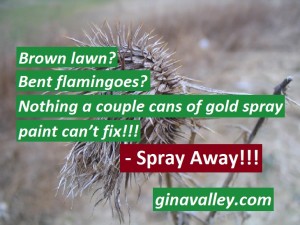 How about your yard?  Landscaping looking like the Munster's house?  Pots filled with dead daisies?  Brown lawn?  Bent flamingoes?  Nothing a couple cans of gold spray paint can't fix.  Let loose with the golds of spray paint land, and change barren into lushness, change dreary into opulence.
No time to wrap gifts?  Spray them.
Cat make some hairballs?  Spray them.
Spouse balding?  Spray him.
Sagging patio furniture?  Dented mail box?  Dingy guest towels?  Spray.  Spray.  Spray!!!
And, if Martha Stewart or the president of you HOA shows up at your door to complain about your efforts, spray paint her, too.
Laugh Out Loud!
-gina
Anything in your life that could use a good spraying?   When do you put up your decorations?  Shoot me a comment.  I'm looking forward to hearing all about it.
Photo courtesy of 
Stock.xchng
 – Used with permission