Because Sometimes The Hair Whisperer Is Not Available…Gina's Favorites
by Gina Valley
The wind is blowing like crazy here in SoCal today, making my already unruly hair turn into a truly rebellious entity. So, for Throwback Day this week, I knew my Because Sometimes The Hair Whisperer Is Not Available post was just what the doctor…er uh…hair dresser ordered. Laugh along with this Gina's Favorites post.
Because Sometimes The Hair Whisperer Is Not Available
I had what looked to be the collision of an angry sheep and an insane porcupine on top of my head.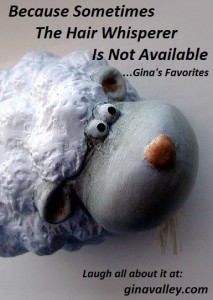 Now there's something you have to understand about my hair.  My hair has a life all its own.  It's rather contrary sometimes.  Frequently quite sassy.  I suspect that it might be a teenager.
So, when I have a calm hair necessitating occasion, I call in The Hair Whisperer.
The Hair Whisperer is magical.  I don't know what she does, but somehow she changes me from out-of-control dandelion to poise-filled business woman.  Even my posture and grammar are improved.
The really cool thing about The Hair Whisperer's magic is that, as long as I don't get it wet, after she's worked her wonder, my hair will stay perfectly for up to 4 days.  Maybe even more.  I'm not sure, because 4 days is as long as I can go without going to the gym (I think I'd need a note from her detailing my hair style preservation mode to get to skip it more than that).
So, since I had a weekend filled with meetings and auditions last week, I stopped by The Hair Whisperers Grotto to have her work her magic Friday morning, secure in the knowledge that her efforts would mean my hair would look great all weekend.
And, perhaps even more importantly, I wouldn't need to lug 100 pounds of hair stuff around with me on my trip.  The only hair-related accessories I brought were my brush and my satin pillowcase (a must to keep hair from tangling).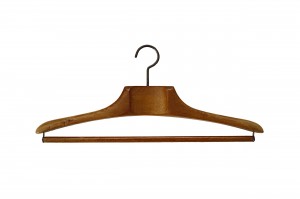 That Saturday I arrived at my first audition about a half an hour early, giving me plenty of time to change into my audition outfit.  I have to admit I was less than completely thankful for the small sedan we'd rented while I was contorting myself in the front seat, changing into my audition outfit.  But, I got my outfit on, and I figured I could count the contorting as a yoga session.
My hair, still very much under The Hair Whisperer's spell, required only a quick shake and toss to be ready to impress.
The audition went well.  I talked.  They laughed.  All according to plan.
After the audition I repeated my contortionist act, changing out of my audition outfit, in order to preserve its pristine condition for the following days' audition.  All according to plan.
We drove, albeit in heavy traffic due to some very selfish drivers who decided to overturn their vehicles right next to the freeway (some people will do anything for attention), to San Francisco in preparation for my audition there the following morning, grabbed some dinner, and checked into our hotel.  All according to plan.
The Professor and I ate take out on the bed, and then drifted peacefully off to sleep.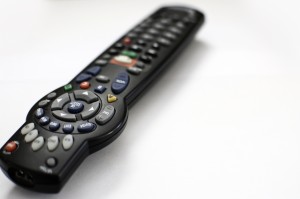 By "drifted peacefully off to sleep" I mean I fell asleep sitting up working with my laptop on my knees, and The Professor entered a snore volume contest without ever losing his grip on the TV remote control.
We know how to do Saturday night away from the kids right.
When I woke up Sunday morning, an hour later than I'd meant to, with my phone in one hand, showing an unsent text, and my laptop with a half-finished column in the other, I had a feeling that "according to plan" was not going to apply very well to that day.
After I peeled the keyboard off of my face, I headed to the loo to…uh…welcome the morning.
My eyes were still half shut walking into the enormous bathroom, and remained that way while I stumbled around, and then completed my…uh…business.  About midway through my hand washing ritual I realized my eyes had finally sprung to life.  And, staring at my reflection in the enormous mirror over the sink I realized that my hair had sprung to life, too
I had what looked to be the collision of an angry sheep and an insane porcupine on top of my head. What's more, with every passing moment, the monstrosity on my head seemed to be growing larger.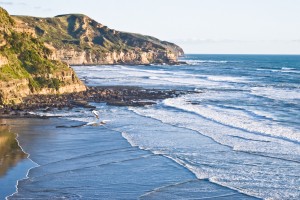 I had allowed for every possible contingency on this trip.  Except one tiny one.  The Pacific Ocean.  I had completely forgotten about the great blue sea and its accompanying hair-exploding humidity.
I was concerned that if I didn't do something fast I wouldn't be able to squeeze out the door of the hotel room and would be trapped in there forever.
But, I had no hair supplies of any kind with me.  Nothing.  I was already so far behind schedule that dashing to the front desk, much less searching for a store, was out of the question.  Checking the large luxurious bathroom, I found that despite the fragrant soap and creamy hand lotion, this top notch hotel clearly catered to the bald, as it had not provided any hair products of any kind.
I grabbed the hand lotion and rubbed a small dollop between my hands.  It looked a lot like hair goo, so I rubbed it into the wild straw that was the ends of my hair.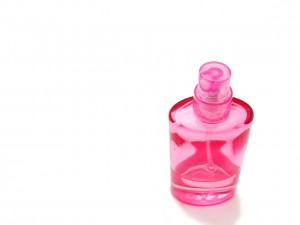 It did not work like hair goo.
Somehow the hand lotion managed to make my hair look greasy and yet frizzier and puffier at the same time.
I rushed into the bedroom and wailed to The Professor, "What am I going to do?  My hair is a complete mess?"
The Professor gave my mane the once over twice before saying matter-of-factly, "Didn't it look just like this yesterday?"  I would have killed him, but we were already running late.
I was so preoccupied with tearing through our luggage in hopes a flatiron had spontaneously materialized in one of our bags that I didn't notice The Professor had invaded the bathroom until he was on his way out.
I'll spare you the details about what he did in there (why should anyone else be made to suffer?), but I think he was legally required to file an environmental impact report.  I had to air it out for a full five minutes before I could even go in there to check for other victims.  It took 10 minutes for my eyes to stop burning and watering, which was both uncomfortable and producing extra humidity which my hair did not need.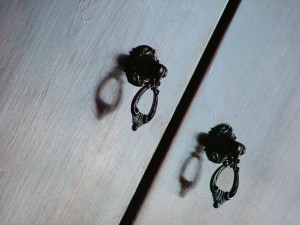 While I was waiting for the bathroom to return to "safe for human occupancy levels," I put on my audition outfit.
I'm familiar with the "clothes shrinking while hanging in the closet" phenomenon.  But, this was my first time facing "clothes growing while hanging in the closet" phenomenon.  Somehow, while hanging in the closet all night my clothes had grown larger.  Especially my pants.  And even though I'd only had them on for an hour the day before they were clearly a size too big and would not stay up.  So, to keep my pants up, I had to stick out my stomach and kind of tuck my rear under.
As I pondered the clothes that were apparently trying to swallow me I noticed a large red line across my chest, clearly visible in the V-neck of my blouse.  I moved closer to the mirror to examine it, and realized that it was a big, wide, dark red scratch.  I had absolutely no idea how it had happened.  Naturally, every shirt I'd brought was a V-neck.
I looked like I was trying to be a candy striper or had been in a fight with a tiger.  Excellent.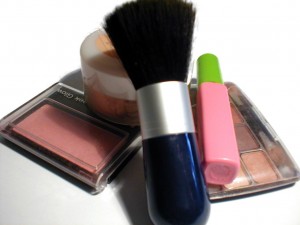 I dabbed a little concealer on it, and managed to make it appear 3-dimensional and much more noticeable.  I considered wearing my blouse backward, but figured the tag would give me away.
While putting on my eye makeup I discovered the 12-hour eye shadow I'd bought had real staying power, as advertised.  Unfortunately, I discovered it after the eye shadow applicator slipped out of my hand, bounced off of my eye lid, and somehow managed to trace a semicircle around the outside of my left eye as it slid down my face.
After trying to brush, wipe, and wash off the dark charcoal colored powder, I was left with what looked like a first-class shiner.  Coupled with my chest wound, disorderly tresses, and giant clothes, my black eye gave me the appearance of one who had just escaped from a brawl at the docks.
I was sure the producers would be wondering, "Who's the potbellied dandelion lady who's been in a bar fight?" when I walked in.
The Professor looked at me as we were heading out the door, opened his mouth, and then shut it without speaking.  Sometimes silence is golden.  Sometimes it's  life preserving.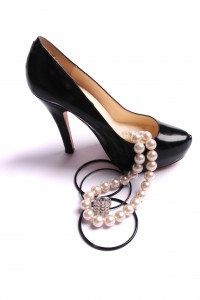 Well, apparently a potbellied dandelion lady who looks like she's been in a bar fight looks a lot like a harried mother, which is what I was auditioning to be, because the producers cast me.
Or, maybe they just liked my new shoes.
I always get a new pair of heels for things like this.
Just in case.
Because sometimes The Hair Whisperer is not available.
And, I need to provide a distraction.
Laugh Out Loud!
-gina
Ever had it rain disasters when you're trying to look your best?  Shoot me a comment.  I look forward to hearing all about it.
Photos courtesy of 
Stock.xchng
 – Used with permission