They're trying to drive me insane.
No, not my pack.
Well, them, too, but I'm talking about those knit, Ninja-skilled, foot festoon-ers.
Is there anything more futile and infuriating than trying to keep a supply of clean, paired up socks?
Oh. My. Gosh.
Why is that absolutely impossible to do?
Socks seem to disappear at our home right before our eyes. I'm not sure whether to call it a miracle or a curse, but whatever it is, I can't seem to stop it.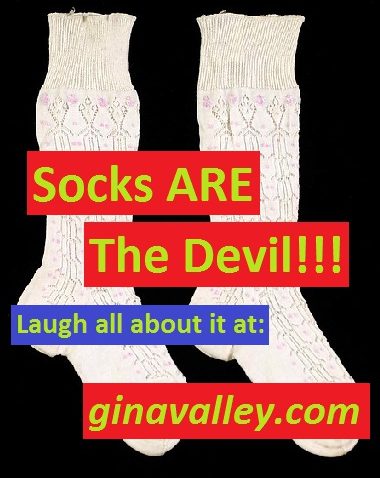 Once I bought a pack of 12 pairs for Son#4 at the Big Blue store. By the time we got to our van in the parking lot, the package was down to 10 pairs. By the time we got home, it was already down to 8. And, he hadn't even opened the package yet.
Chances are, of those 8 pairs, only 3 pairs actually made it to the laundry room for cleaning and re-wearing. The rest of them likely took off to live stinky, free-range lives under the bathroom cabinet, in the back of his closet, or in our breakfast cereal cabinet.
Why can't my family get their dirty socks off of their feet and directly into our laundry room, without a 3 day layover in our kitchen or on our dining room table? I'd have the socks complain to their travel agent, if I thought it'd do any good.
We have a bucket in our laundry room that dirty socks are supposed to reside in. It's actually more of a tub. It's hard to miss. I keep getting larger and larger tubs, because I think the socks are climbing out and making a run for it, causing our supply to constantly dwindle.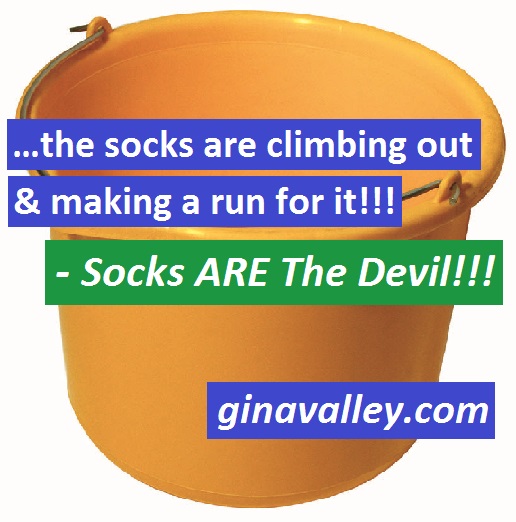 Why does my pack refuse to corral the socks we can actually find? If they would just drop their used socks into the bucket, I could work my over-bleaching magic, and produce clean, slightly transparent foot cozies for them on a regular basis.
Maybe they're afraid to have them washed because they know how socks in our home use laundry day as a starting point to begin world travels.
My dryer doesn't just eat an occasional sock. No, it's apparently running a complete sock protection and relocation program, sneaking socks across borders and in and out of houses throughout the world. I caught an argyle with a tiny Scottish passport in the last load I pulled from the dryer.
Of the 6 socks that made up those 3 identical pairs from the same package that I bought for Son#4 that day, only 3 socks will emerge from the laundry. And, not a one of those 3 socks, which were identical when they entered the washer, will look even slightly like a relative of the others as they exit the dryer.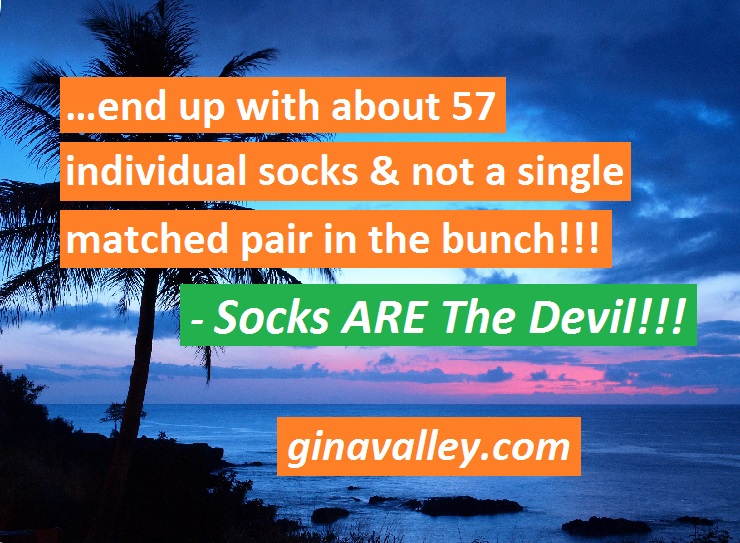 How come when I buy new socks and wash them, even though they all came out of the same package, when they come out of the dryer they're invariably all different sizes, shapes and colors? What's up with that?
The military should have such shape-shifting and camouflage technology!
After washing a full load of more than 50 pairs of socks, I end up with about 57 individual socks, and not a matched pair in the bunch.
I'm considering moving to Hawaii, solely so that my pack won't have to wear socks.
I'm pretty sure the savings in sock money for the first year alone would pay for the move.
Laugh Out Loud!
-gina
Is your home a hideout for sock fugitives, too?  Do they disappear before or after you try to wash them?  Shoot me a comment with all of your suggestions for sock containment.  I'm looking forward to hearing all about it.
Photos courtesy of Stock.xchng, metmuseum.org & Dreamstime.com – Used with permission.
This column is based on Socks Are The Devil, which first appeared on ginavalley.com/ January 15, 2013.