It's A Sleep Deprivation Party!!!
by Gina Valley
One of my kids put herself to bed early last night, because she needed to be up at 7am this morning for the 1st day of summer school. I know it's shocking to hear of a child willingly going to bed early, but she is one of those rare children who, even as a toddler, would go take a nap when she was tired.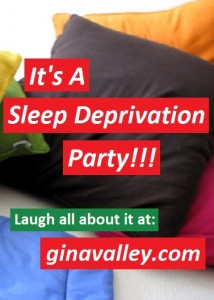 Four of my kids had a sleep-over last night. They spent the night flopped down in our family room, giggling and eating tubs of frosting and chips until 5am this morning.
I was too tired to go downstairs, so I couldn't give them a stare-of-death to inspire quietness. I couldn't holler at the anti-sleeping-junk-food-snarfing-sleepover kids to go to sleep, because I'd wake up the sleeping-to-prepare-for–summer-school kid., so the giggling continued.
As the world's lightest sleeper, I didn't miss a single "Haha!" "Hee hee!" or "LOL!"
Just as the downstairs din dissipated, The Snore Master, also known as my husband, kicked into high gear at 5:01am, rattling our windows and my last nerve. I rolled him over so many times he nearly fell off the bed, but his sonata of snorting continued unimpeded.
The last time I looked at it before I finally dozed off, our clock read 6:55am.
At 7:00am, I was awakened by someone who I, at first, assumed to be someone who wanted to be strangled. But, as my eyes focused, I realized it was actually my husband telling me "good bye" as he headed off to lecture twenty-something's about all things scientific.
As I stumbled down the hall telling him goodbye & making sure my summer school attendee was conscious and vertical, I noticed that mixed into the pile of sleeping children on our family room floor was our dogs.
Even our dogs were too tired to stand up.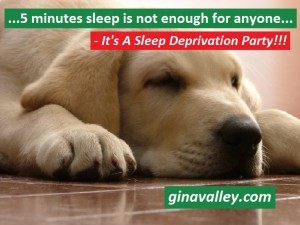 Clearly, 5 minutes sleep is not enough sleep for anyone.
I'm not telling you this so you'll feel sorry for me. Believe me, I've already fired up enough self-pity for myself to last me for the next couple months.
I'm telling you this because somewhere nearby in our quiet, little neighborhood someone is doing something which involves a large piece of construction equipment going back and forth, repeatedly.
And, as large pieces of construction equipment are apt to have, this one has an alarm which, for safety's sake, beeps while it's backing up. I'm sure of this because for the last hour and a half this large piece of construction equipment has beeped 10-20 times a minute. Every minute.
So, it's important I share this information with you, because, if whoever is driving that large piece of construction equipment with the excellent safety-ensuring beeper, continues to do so, I will be stabbing them with a fork, and I'll need you to read this to the judge at my sentencing hearing.
Laugh Out Loud!
-gina
How do you handle a lack of sleep? Why do they call them "slumber parties" when no one slumbers? Shoot me a comment. I'm looking forward to hearing what you think.
Photos courtesy of 
Stock.xchng
 – Used with permission.