Top 10 Reasons To Hate Silent Saturday
by Gina Valley
Today was Silent Saturday on the soccer fields.
It's also known as All The Parents Complaining About Not Getting To Cheer For Their Kids Day. I noticed some grandparents getting in on that, too.
In case you aren't familiar with the Silent Saturday Movement, just think of it as a kind of glorified time-out for the over-zealous (i.e. people behaving like jerks) at youth soccer games.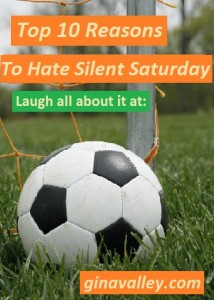 During Silent Saturday no one (not parents nor grandparents nor coaches nor spectators) is allowed to yell or say anything (positive or negative) to the players during the games. No whooping. No hollering. No sound of any kind is allowed, other than clapping.
I'm all for helping people curb their negativity and protecting kids from helicopter parenting, but this Silent Saturday thing is not working out for me.  My friend, Pesky Pippi, put it well when she said, "I HATE Silent Saturday!"  I'm with Pippi.
In theory, Silent Saturday should create an environment similar to that which children experienced before organized sports took over all their informal neighborhood games. The idea was for kids to play without worrying about what adults thought about their game. The initial plan was for this to recreate the freedom kids have to play without adults around.
In reality, Silent Saturday makes people go insane.
Top 10 Reasons I Hate Silent Saturday
#10. It causes confusion. The quiet clapping after plays sounds like golf, and I keep looking for Tiger Woods.  Or, Happy Gilmore.  Someone.
#9. It causes blindness. We were encouraged to make signs to hold up during the game, in lieu of hollering our good sentiments. My children used our signs to engage in physical attacks upon one another while they "watched" their brother's game.  Nobody lost an eye, but they might have, if the game had gone into overtime.
#8. It encourages tattooing. Not only did my kids take time out from making our cheer signs for Silent Saturday to draw mustaches on each other and on our blonde dog, they also drew faces on each of The Professor's toes while he dozed on the sofa (he can sleep through anything, obviously), and an alien on their teenage sister's knee (see? Napping is a bad idea, teenagers).  The discovery of their handy work resulted in Frantic Friday in our home. And, since we were using permanent markers, all of their creations lasted well beyond Silent Saturday.
#7. It promotes illicit drug use. The people along the sidelines mumbling to themselves what they would normally be hollering sound like a bunch of addicts. Or, zombies. It isn't good.
#6. It encourages Facebook bullying. I love to cheer for the kids, mine and everyone else's. I get that there are some people who are morons and need to shut up. But, if we can't talk directly to them, you know, like adults, someone will end up bashing them on Facebook or talking behind their backs at Starbucks. We don't need to encourage that.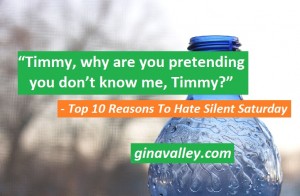 #5. It makes kids lose faith in their parents. Without the parents hollering at one another, how are we parents, who are busy chatting with one another, supposed to know when our kid scores?  All the players are dressed alike. It's a mob in front of that goal. We all need that one eagle-eyed parent to holler out the shooter's name, so we can tell our kids, "Of course, I saw your goal."
#4. It makes kids join gangs. The quiet conditions cause the players to forget they're allowed to talk to each other during the game. So, they tend to communicate by using all sorts of weird hand gestures that look like a cross between gang signing and giving the bird.
#3. It produces boredom. How are we supposed to giggle about Timmy's "mom" using his name at the beginning and end of every sentence if she isn't allowed to talk? We'll miss "Timmy, do you want water, Timmy?" "Timmy, are you hungry, Timmy?" "Timmy, get the ball, Timmy!" "Timmy, why are you pretending you don't know me, Timmy?"  By the way, Timmy is her husband.
#2. It teaches kids to take candy from strangers. The refs tossed candy to kids along the sidelines when their parents remain silent. So, if you obey the edict and sit there quietly, you are punished because a stranger gives your kid candy, and then you get to deal with a toddler on a sugar high. While remaining silent.  Of course.  In keeping with the day's theme.
#1. It makes communists attempt world domination. By the time I get home after a day of Silent Saturday, I need to yell at someone. I'm guessing everyone else at Silent Saturday has some pent up aggression, too. I'm not sure, but I think that Russia had a Silent Saturday at their soccer games right before Putin decided to invade the whole world.  Not sayin' that's why he did it, just pointing it out.
Let's all say "No!" to Silent Saturday.
Or, "Nyet!"
Quietly, though.
I don't want to get kicked off of the field.
Laugh Out Loud!
-gina
Have you taken part in Silent Saturday? Do you think Duct Tape Day might be more effective? Shoot me a comment. I'm looking forward to hearing all about it.
Photos courtesy of 
Stock.xchng
 – Used with permission.